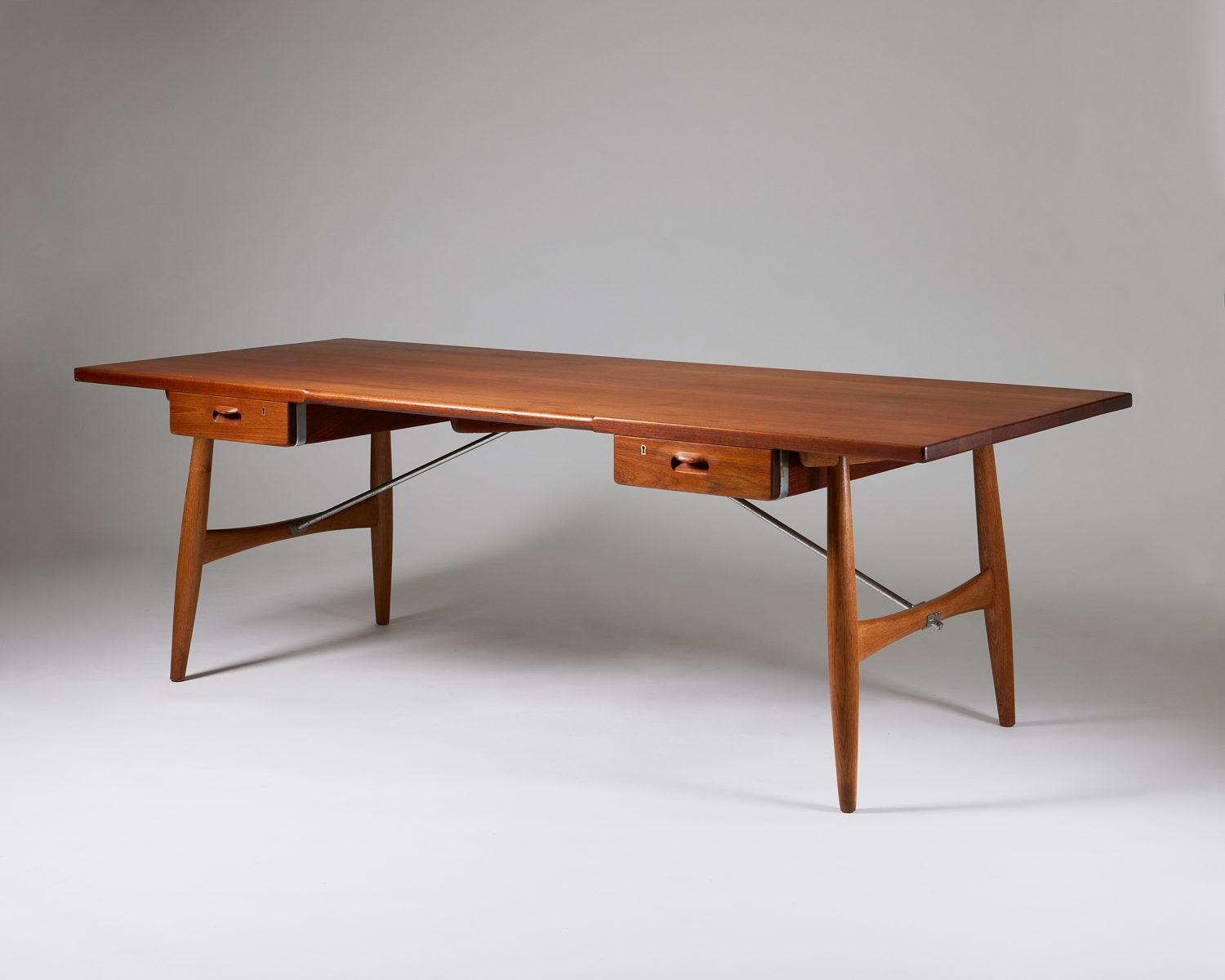 'Architect's Desk' model JH571 designed by Hans J Wegner for Johannes Hansen,
Denmark. 1953.
Teak, oak and chromium-plated steel.
Early version with wooden handles.
Stamped.
Hans Wegner's 'Architect's Desk' is an excellent example of the level of detail that Danish designers included in the construction of their furniture during the twentieth century. Overall, the form of the desk is made up of sturdy and defined lines. Upon closer inspection, one can see that each section of the desk is independent from one other. The drawers, for example, are suspended from the underside of the desk's surface instead of being set into it. Interestingly, the wooden handles on the drawers indicate that this is an early version of the 'Architect's Desk'.
The spacious tabletop is supported by elegantly fashioned legs that taper towards the ground. The four table legs are set at a slight angle and are secured in place by two symmetrically placed steel braces. These braces attach to supporting stretchers at either end of the desk that then connect to the legs at their widest part. A number of other Danish furnituremakers at the time also incorporated this structural detail into their designs, such as Börge Mogensen's 'Hunting' table designed in 1950.
Hans Wegner's 'Architect's Desk' was first presented at the Copenhagen Cabinetmakers' Exhibition of 1954 as a prominent part of the manufacturer, Johannes Hansen's booth. Combining the desk with Wegner's
'Swivel' chair model 502
makes for a sophisticated pairing.
H: 74 cm / 2' 5''
W: 220 cm / 7' 2 1/2''
D: 94 cm / 3' 1''

Price: on application