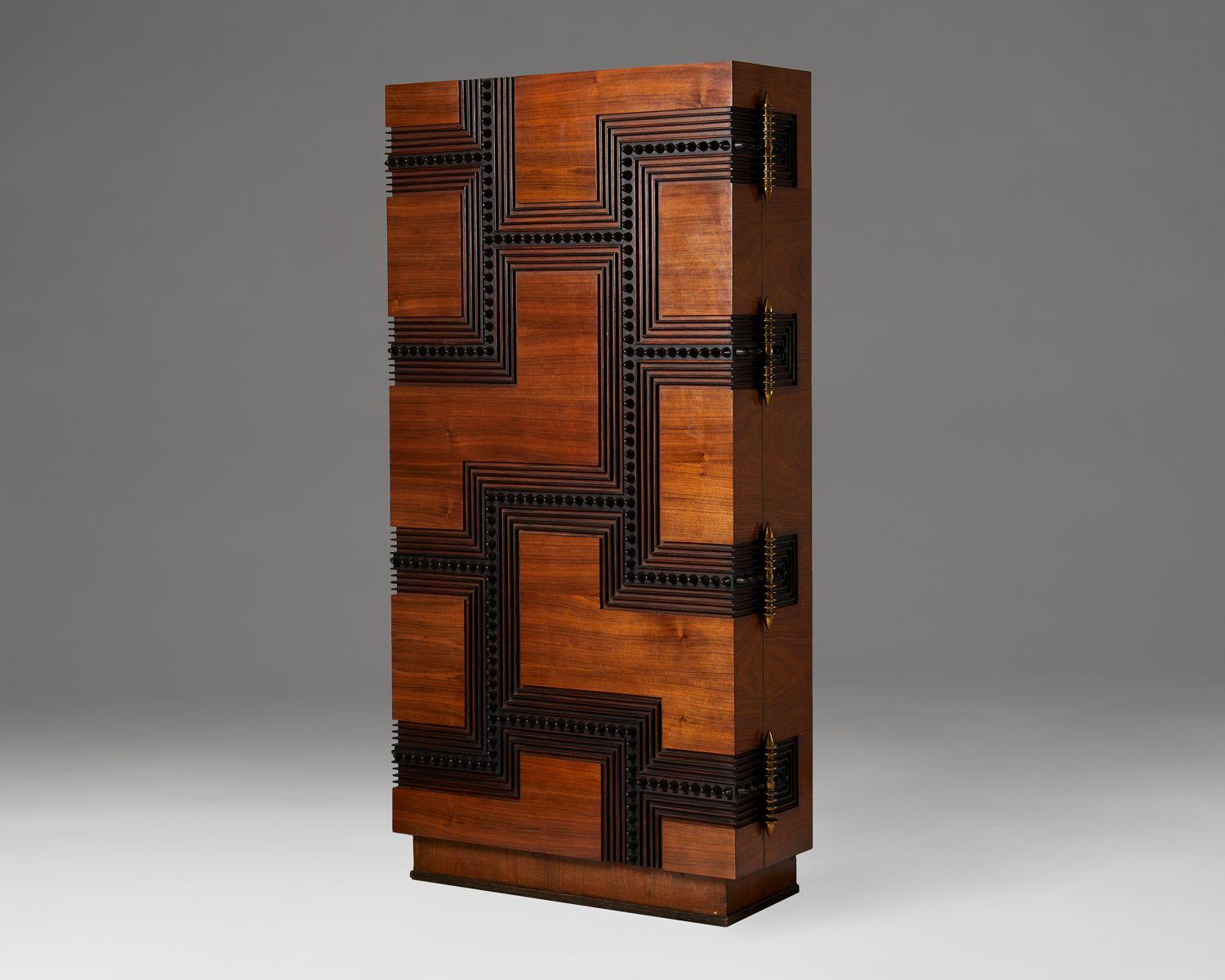 Bar cabinet attributed to Otto Schulz for Boet,
Sweden, 1935.
Mahogany, brass, glass and mirror, with interior in parchment.
Provenance: From a private Swedish collection.
What distinguishes this bar cabinet from 1935 is the remarkable contrast between its powerful exterior and delicate interior: while the outside is a statement in geometry and strength of form, the inside is light and ornate. The act of opening the cabinet changes the character of the piece entirely; the juxtaposition brings about memorable sophistication.
The bar cabinet attributed to Otto Schulz has a sturdy construction and exhibits elements of both Art Deco and Modernist design prevalent during that time. Crafted with meticulous attention to detail, it is made from luxurious mahogany wood and features an exquisite combination of brass, glass, mirror, and parchment components.


On the outside, the clean lines of the body are adorned with elaborately rounded, strong brass hinges that hold the door. The dark geometric pattern, referencing ancient motifs, is characteristic of Schulz's designs from that time; it is carved into the surface and combined with thimble-shaped protrusions, intensifying a sense of three-dimensionality. The mighty exterior is locked with one small key, which brings to mind a vault.
The door of the bar cabinet opens to reveal a well-organised interior with compartments and decorative swirl patterns. Practical elements, such as fold-out and slide-out shelves for serving and mixing drinks, as well as small glass shelves for storage, are combined with parchment-lined or pattern-etched mirrored surfaces. Filligree brass spirals protect the contents of the shelves from falling. Built-in lighting showcases the bottles and creates a warm ambience.
The bar cabinet was designed to be wall-hung with a secure hanging mechanism on the back. This feature is modern and somewhat unusual as the cabinet is full-sized and rests on a base. However, the heavy corpus and weight of the opening door require extra support.
Otto Schulz (1882-1970) was a German-born architect, designer, and publisher, active for over 40 years in Gothenburg, Sweden, where he established Boet (1920-1950), one of Sweden's most prestigious interior design shops. He made significant contributions to the field of furniture and interior design and is known for his innovative as well as functional creations. His design aesthetic is characterised by refined craftsmanship, combining quality materials with thoughtful construction techniques. Schulz frequently blended elements of modernism with traditional styles, making him a revered figure in the history of Swedish design.
H: 163 cm / 5' 4''
W: 81 cm / 2' 8''
D: 31 cm / 12 1/4''

Price: on application