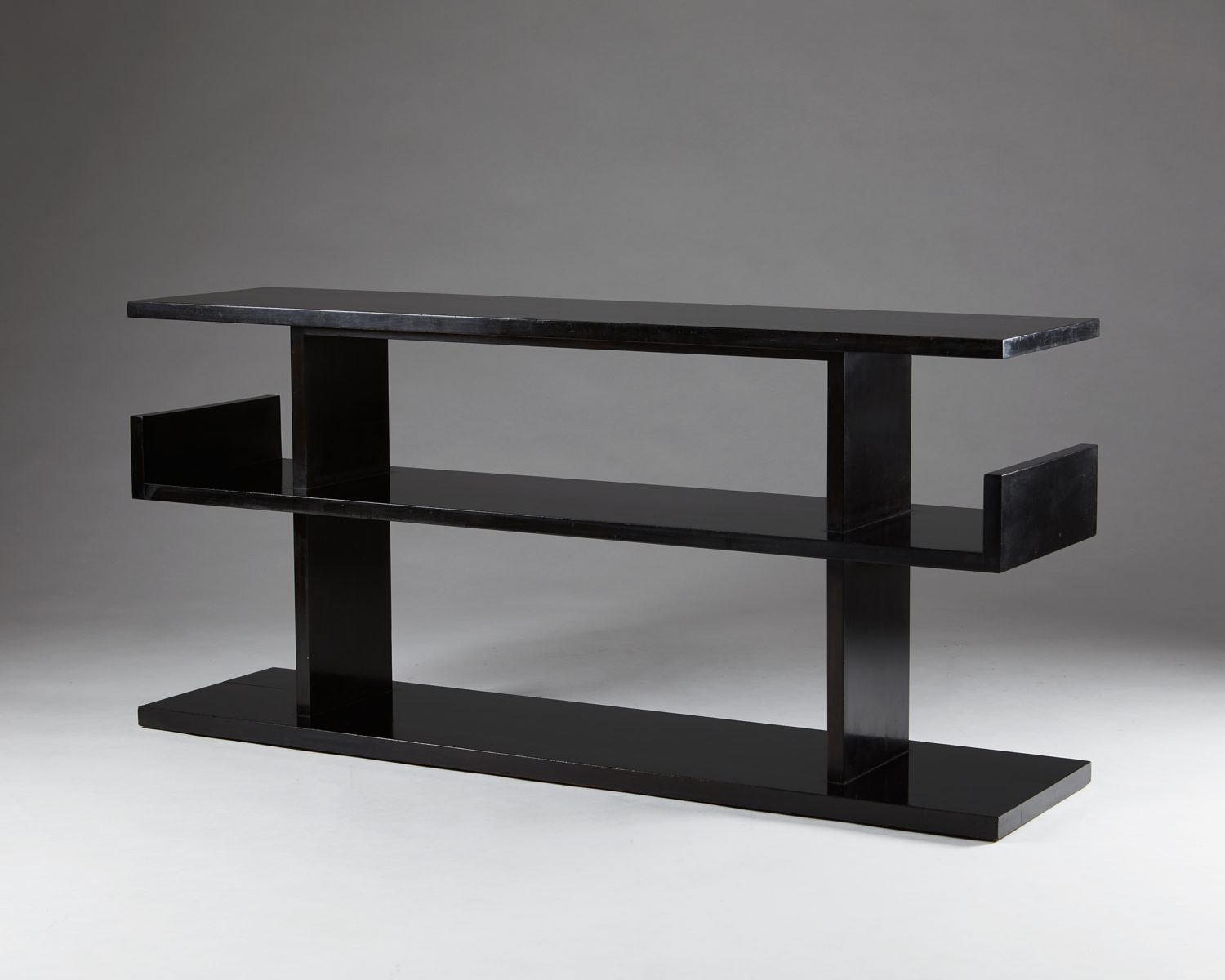 Bookshelf "Typenko" designed by Axel Einar Hjorth for NK,
Sweden, 1931.
Ebonised birch.
Marked with the maker's tag.
Produced in 1935.
Hjorth's designs - whether from the luxuriousness of neo-classicism to the severity of functionalism - are sharply distinct in style, materials, and character. Unlike many of his contemporaries, however, he did not conform to the socially oriented ideas produced by Svensk Form. He often incorporated playful ornamentation from different historical periods from which he was inspired, such as French Art Deco, using mixed exotic woods, bright colours, and textiles.
H: 65.5 cm / 2' 2"
W: 140 cm / 4' 7 1/2"
D: 35 cm / 1' 5 3/4"
Provenance:
Friherre Henric Falkenberg af Trystorp (1931-2016), Värmlands Säby herrgård, Visnums socken, Värmland.
Literature:
Otto Schulz (red.), Boet: Månadsskrift för Hemkultur, Hantverk och Konstindustri, 1932, modellen avbildad s. 193.
Åke Stavenow (red.), FORM, 1936, modellen avbildad i AB Bostäders lägenhet på utställningen Vårt Bohag i Borås 1936 s. 163.
Sven Kjellberg & Arthur Svensson (red.), Slott och Herresäten i Sverige; Västergötland Värmland Dalsland 2, 1968, detta exemplar avbildat i förmaket på Värmlands Säby herrgård s. 346.
Christian Björk, Thomas Ekström & Eric Ericson, Axel Einar Hjorth - Möbelarkitekt, 2009, modellen avbildad s. 122.

Price: on application