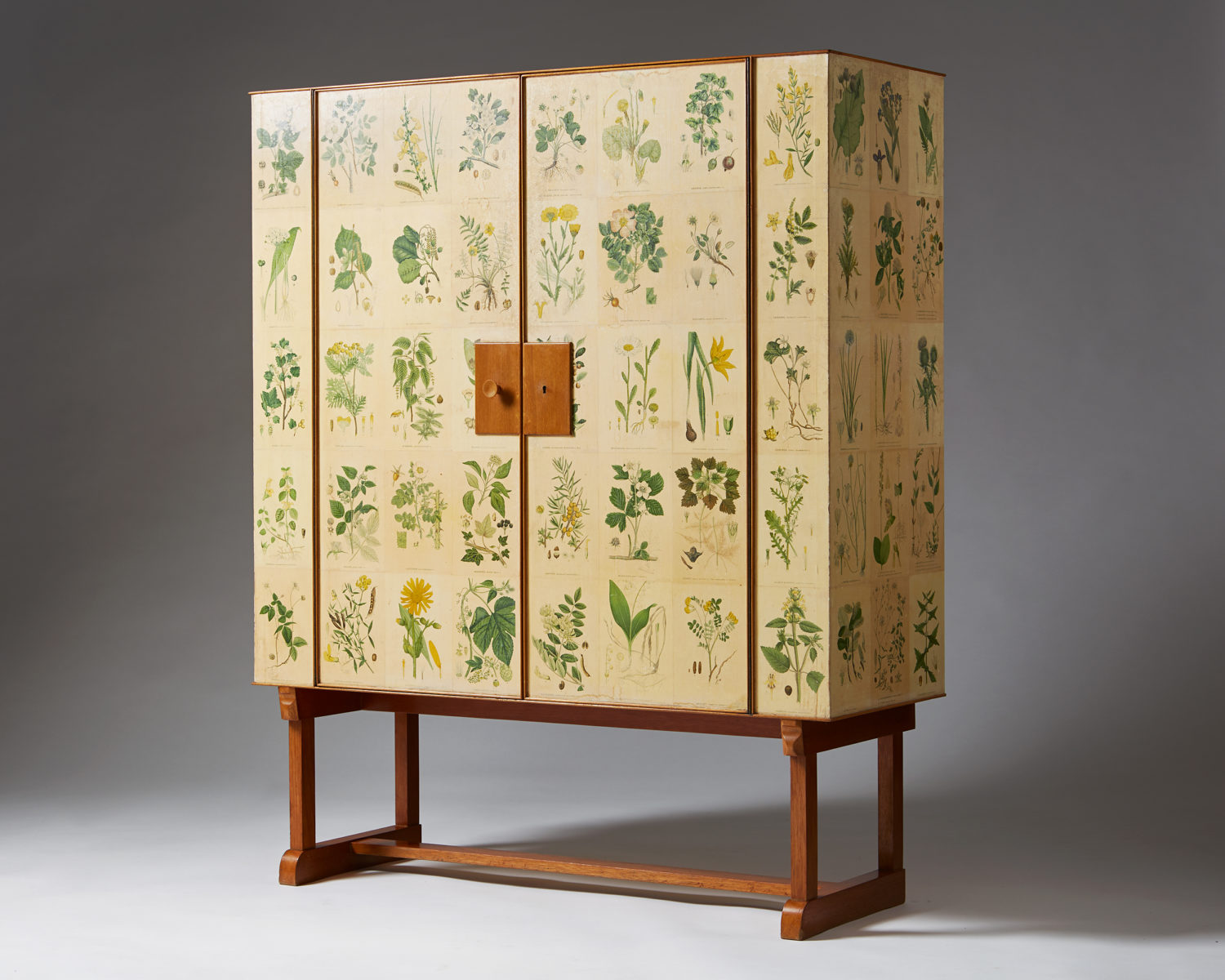 Cabinet "Flora" model 852 designed by Josef Frank for Svenskt Tenn,
Sweden. 1950's.
Mahogany, oak and hand coloured paper.
Exterior covered with paper illustrations from 'Bilder ur Nordens Flora' by C. A. Lindman.
H: 140 cm/ 4' 7''
W: 115 cm/ 3' 9 3/4''
D: 43 cm/ 17''
Together with Estrid Ericson and her furnishing company, Svenskt Tenn, Josef Frank developed his highly personal style with elements of Viennese elegance and Swedish functionalism. He wanted to incorporate natural forms and colours into his interiors, so that the inhabitants could breathe freely in the enclosed spaces. He believed that "ornament and complexity create peacefulness and get rid of the disturbing aspect of pure functional form."
A perfect example of this ideology is the presented Flora cabinet. For this project, Frank used hand-coloured botanical paper prints from Carl Lindman's book 'Bilder ur Nordens Flora', which he then delicately applied onto the mahogany front of the piece. The contrast between the delicate floral motifs and heavy wooden form instils the cabinet with a light, playful and organic sense. Contrasting materials evoke an echo of the past, but create an indisputably modern piece.
Literature:
Nina Stritzler-Levine, ed., Josef Frank, Architect and Designer: An Alternate Vision of the Modern Home, exh. cat., New Haven, 1996, p. 71, fig. 4-9
Christopher Long, Josef Frank: Life and Work, Chicago, 2002, p. 235, fig. 218
Christoph Thun-Hohenstein, Herman Czech and Sebastian Hackenschmidt, Josef Frank: Against Design, The Architect's Anti-Formalist Oeuvre, exh. cat., Vienna, 2015, p. 310

* SOLD *