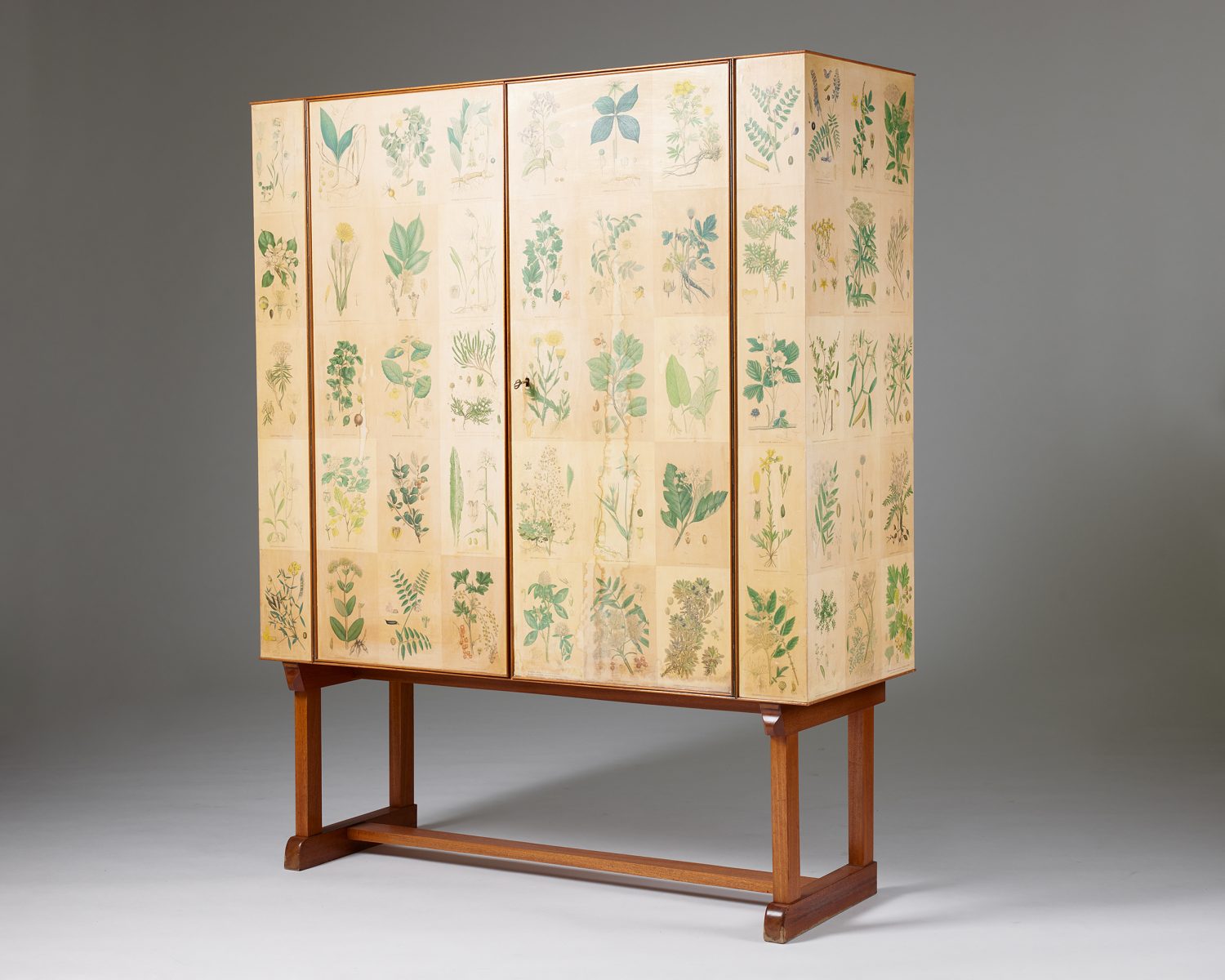 Cabinet 'Flora' model 852 designed by Josef Frank for Svenskt Tenn,
Sweden, 1937.
Mahogany, birch and hand-coloured paper.
This example of the 'Flora' cabinet is the earlier model manufactured after 1939.
The exceptional cabinet by Josef Frank is decorated with delicate botanical paper prints. The fact that it does not have wooden door protection around the keyhole, unlike the later version, proves its early date of manufacture. This earlier version is also identifiable as such because of the use of slightly larger botanical paper prints. Here, there are eight prints per row, carefully chosen from J. W. Palmstruch's "Svensk Botanik", while the later "Flora" was decorated with ten prints per row. The cabinet's four shelves offer ample storage, and a discrete key elegantly locks away the interior.
Together with Estrid Ericson and her furnishing company, Svenskt Tenn, Josef Frank developed his characteristic style combining elements of Viennese elegance with Swedish functionalism. He wanted to incorporate natural forms and colours into his interiors so that the inhabitants could experience a sense of freedom in enclosed spaces. He believed that "ornament and complexity create peacefulness and get rid of the disturbing aspect of pure functional form." Josef Frank's impact on Swedish design is unparalleled.
H: 148.5 cm / 4' 10 1/2"
W: 120 cm / 3' 11 1/4"
D: 43 cm / 1' 5"
Literature:
Nina Stritzler-Levine, ed., Josef Frank, Architect and Designer: An Alternate Vision of the Modern Home, exh. cat., New Haven, 1996, p. 71, fig. 4-9
Christopher Long, Josef Frank: Life and Work, Chicago, 2002, p. 235, fig. 218
Christoph Thun-Hohenstein, Herman Czech and Sebastian Hackenschmidt, Josef Frank: Against Design, The Architect's Anti-Formalist Oeuvre, exh. cat., Vienna, 2015, p. 310
Cia Wedin, "Florabyrå Linné", Stockholm 2007, p. 44-45.
Kristina Wängberg-Eriksson, Jan Christer Eriksson, "Josef Frank Möbelformgivaren", Talinn 2014, K71. Drawing dated 1938.

* SOLD *