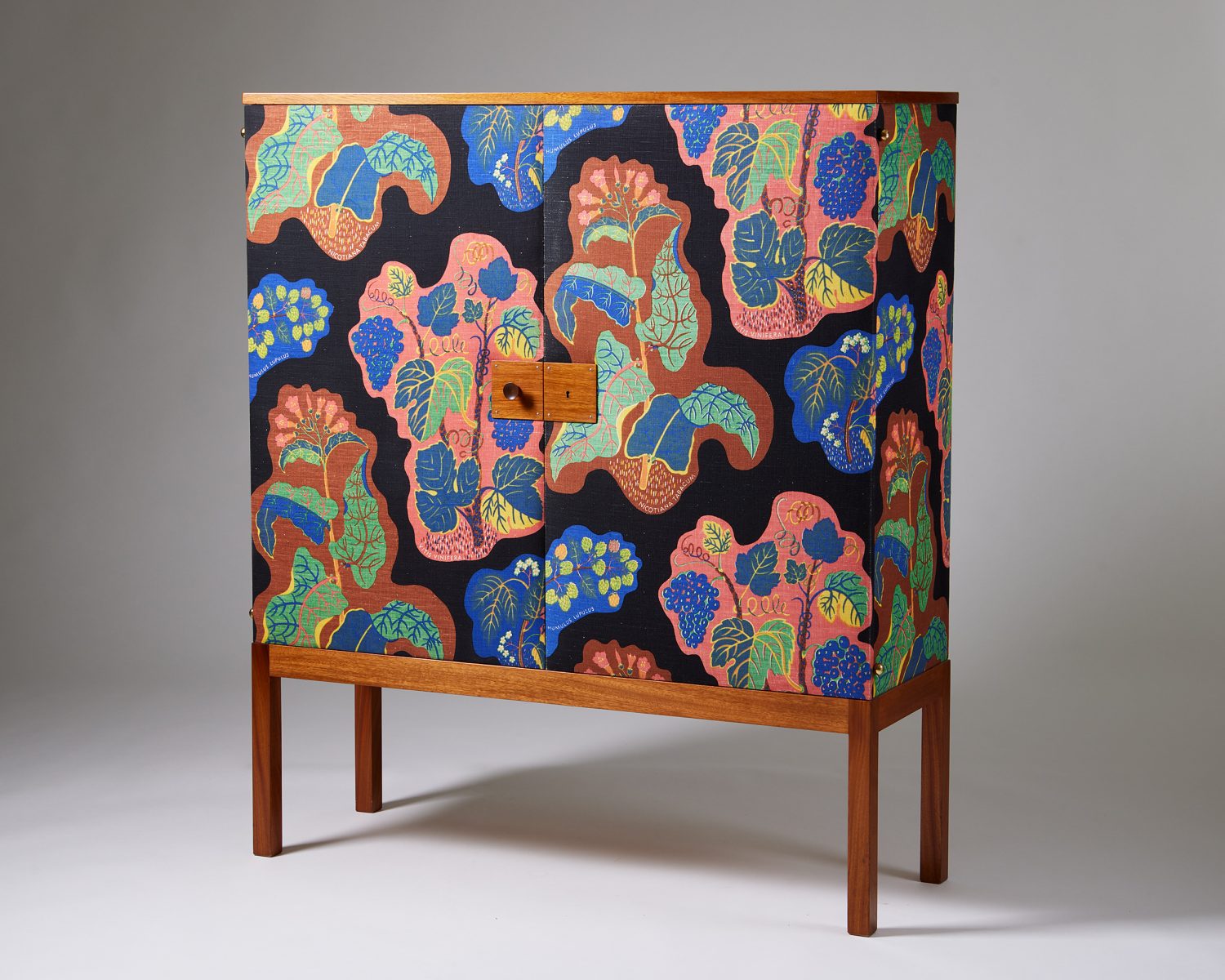 Cabinet model 522 designed by Josef Frank for Svenskt Tenn
Sweden, 1934
Mahogany with upholstery in Josef Frank's 'Poisons' textile.
This cabinet model 522 designed by Josef Frank is the rarer, larger version that he designed for Svenskt Tenn in 1934. It is quite remarkable how the cabinet has remained in such excellent vintage condition over the years. The frame of the cabinet is made of mahogany and the body has been clad in Josef Frank's 'Poisons' textile. The cabinet has two doors that can be locked using a small key. The doors open to reveal two sections separated by a central divider. Each of these sections has five shelves, allowing for ample storage space.
Josef Frank designed the textile-clad cabinet in 1934 during the interwar period when an influx of designers emigrating to England. During this time, upholstered furniture was an established practice in British design and Josef Frank was enamoured by the contrasting impression of soft textile on hard wood.
Together with Estrid Ericson and her furnishing company, Svenskt Tenn, Josef Frank developed his characteristic style combining elements of Viennese elegance with Swedish functionalism. He wanted to incorporate natural forms and colours into his interiors so that the inhabitants could experience a sense of freedom in enclosed spaces. He believed that 'ornament and complexity create peacefulness and get rid of the disturbing aspect of pure functional form.' Josef Frank's impact on Swedish design is unparalleled.
Provenance:
Maj-Britt Nilsson (1924 – 2006), the famous Swedish actress
Per Gerhard (1924 – 2011), a Swedish theatre owner and director
H: 140 cm / 4' 7''
W: 120 cm / 3' 11 1/4''
D: 40 cm / 15 3/4''

* SOLD *