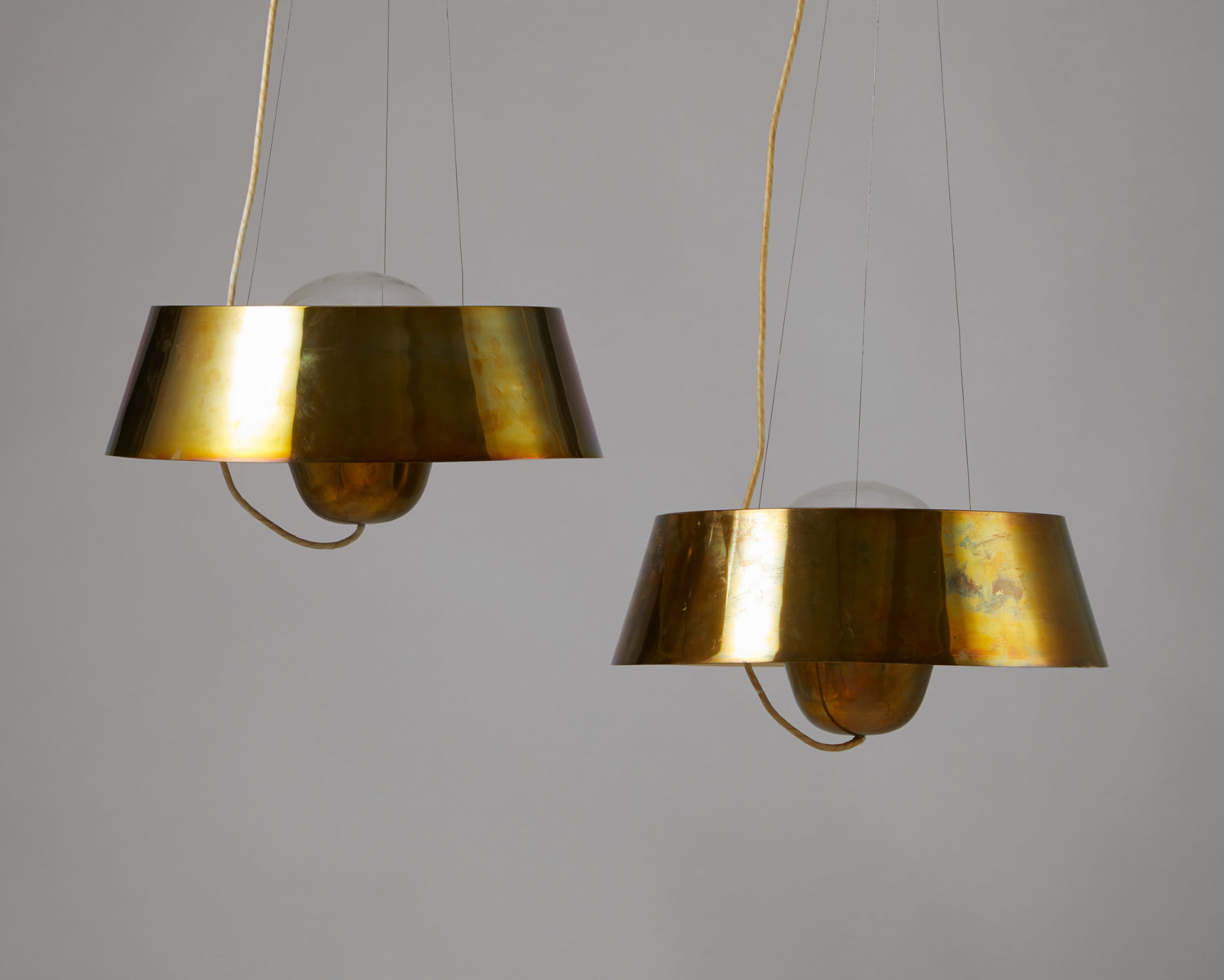 Pair of 'Aarhus City Hall' ceiling lamps designed by Arne Jacobsen for Louis Poulsen,
Denmark, ca 1941.
Brass and glass.
This example was manufactured in the 1940s.
Provenance: Aarhus City Hall, Denmark
A simple yet graceful combination of materials and shapes characterises the 'Aarhus City Hall' ceiling lamps. Hanging from the ceiling on three thin metal wires, each lamp's spherical brass segment appears suspended in the air and is complemented by a large glass cap that both protects and emphasises the light source – a union of aesthetics and function.
Completed in 1942 as a total design, Arne Jacobsens' famous city hall in Aarhus has a simple exterior and a richly detailed interior. Using soft shapes achieved through elegantly understated materials, such as brass, glass, and wood, Jacobsen and his team designed all the furniture, lamps, fittings and other details, including the iconic typeface. The building is both an example of early functionalism in Denmark and of Arne Jacobsen's impressive total designs.
Only the most distinguished manufacturers were contracted for the interiors of the Aarhus City Hall; these ceiling lamps were produced by the Danish lighting manufacturer Louis Poulsen, which was founded in 1874 and would go on to become internationally renowned for its collaborations with designers such as Poul Henningsen, Verner Panton, and Arne Jacobsen.
Arne Jacobsen (1902-1971) is among the most widely known and admired Danish architects and designers. Six decades of architectural and design work have made him one of the most significant figures in Danish design history.
H: 24 cm / 9 1/2"
D: 48 cm / 1' 7 3/8"
Total drop: 140 cm / 4' 7 3/8"
Literature:
Jens Lindhe, ed., Aarhus Rådhus, Copenhagen, 1991, p. 50 for a technical drawing
Félix Solaguren-Beascoa, Jacobsen, Copenhagen, 1991, pp. 62, 183 for images and a technical drawing
Sources:
https://arnejacobsen.com/works/aarhus-city-hall/
The last photo shows one lamp in the Aarhus City Hall. © Photo: Jens Lindhe.

* SOLD *