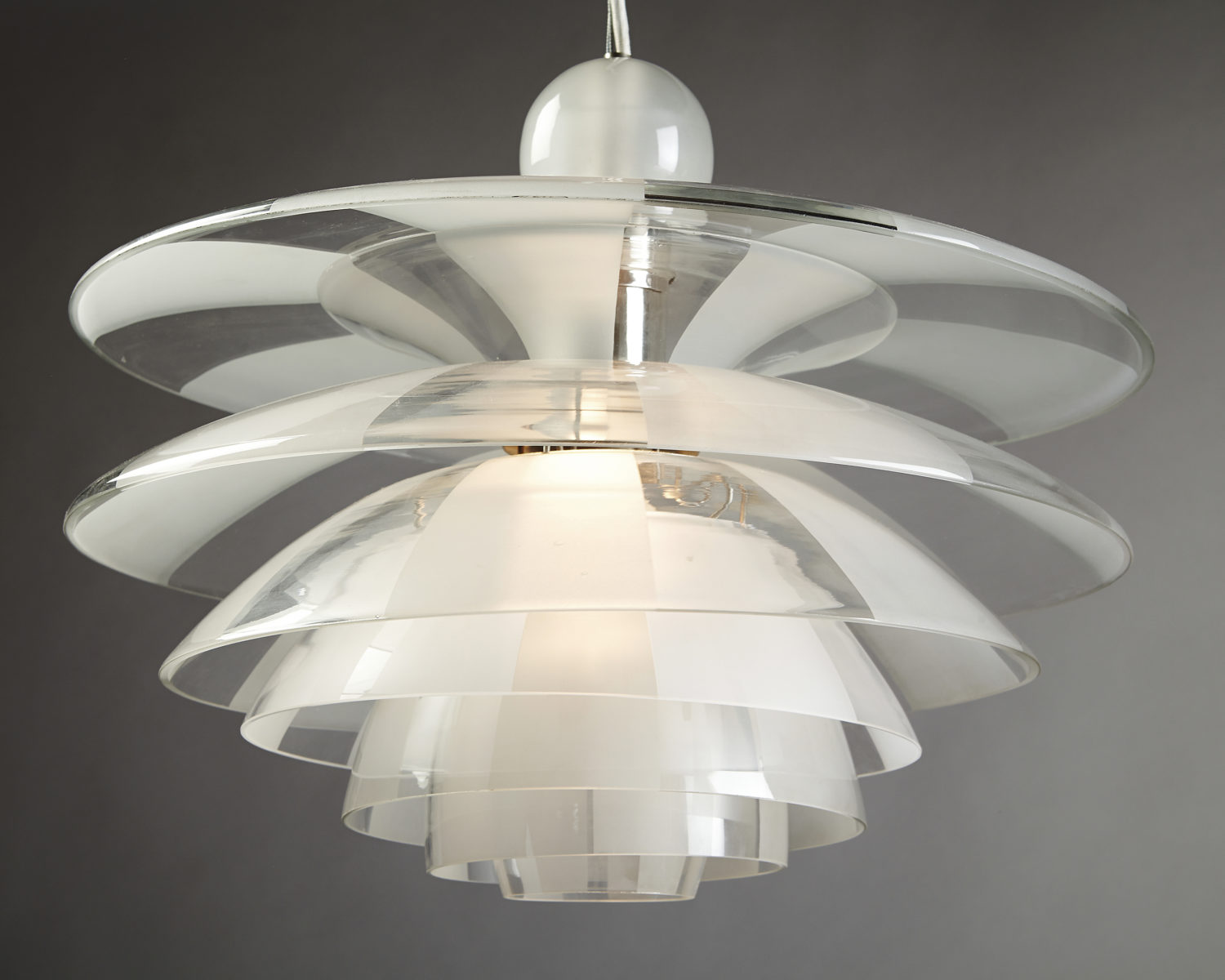 Ceiling lamp "Septima 5", designed by Poul Henningsen for Louis Poulsen,
Denmark. 1929.
Seven wood moulded and acid etched glass shades, nickel-plated brass.
Stamped Pat. Appl.
D: 50 cm/ 19 1/2''
H: 40cm/ 15 3/4''
Literature:
Tina Jørstian and Poul Erik Munk Nielsen, eds., Light Years Ahead, The Story of the PH Lamp, Copenhagen, 1994, p. 181, 237-39 for images and a technical drawing.
Nyt Tidsskrift For Kunstindustri (Copenhagen), no. 1, January 1928, p. 203 Produced by Louis Poulsen.
Beyond the original PH Lamps, Poul Henningsen worked on the Septima between 1927 and 1931. Here again, he cloaked the bulb in several layers that simultaneously diffuse and reflect light to create a warm and harmonious ambiance. The commercial and cultural potential of the Septima was never fully realized, and very few examples were produced. On the eve of World War II, Louis Poulsen ceased production due to material shortages. And then, given Henningsen's outspoken radical views, he and his wife moved to Sweden (along with fellow Danish designer Arne Jacobsen and his wife) to avoid the Nazis. Nevertheless, the Septima still had a significant impact. It's believed that Henningsen revisited this design specifically in 1958, when he was commissioned to create large, opulent chandeliers for a venerable, waterfront restaurant in Copenhagen called the Langelinie Pavilion.

* SOLD *