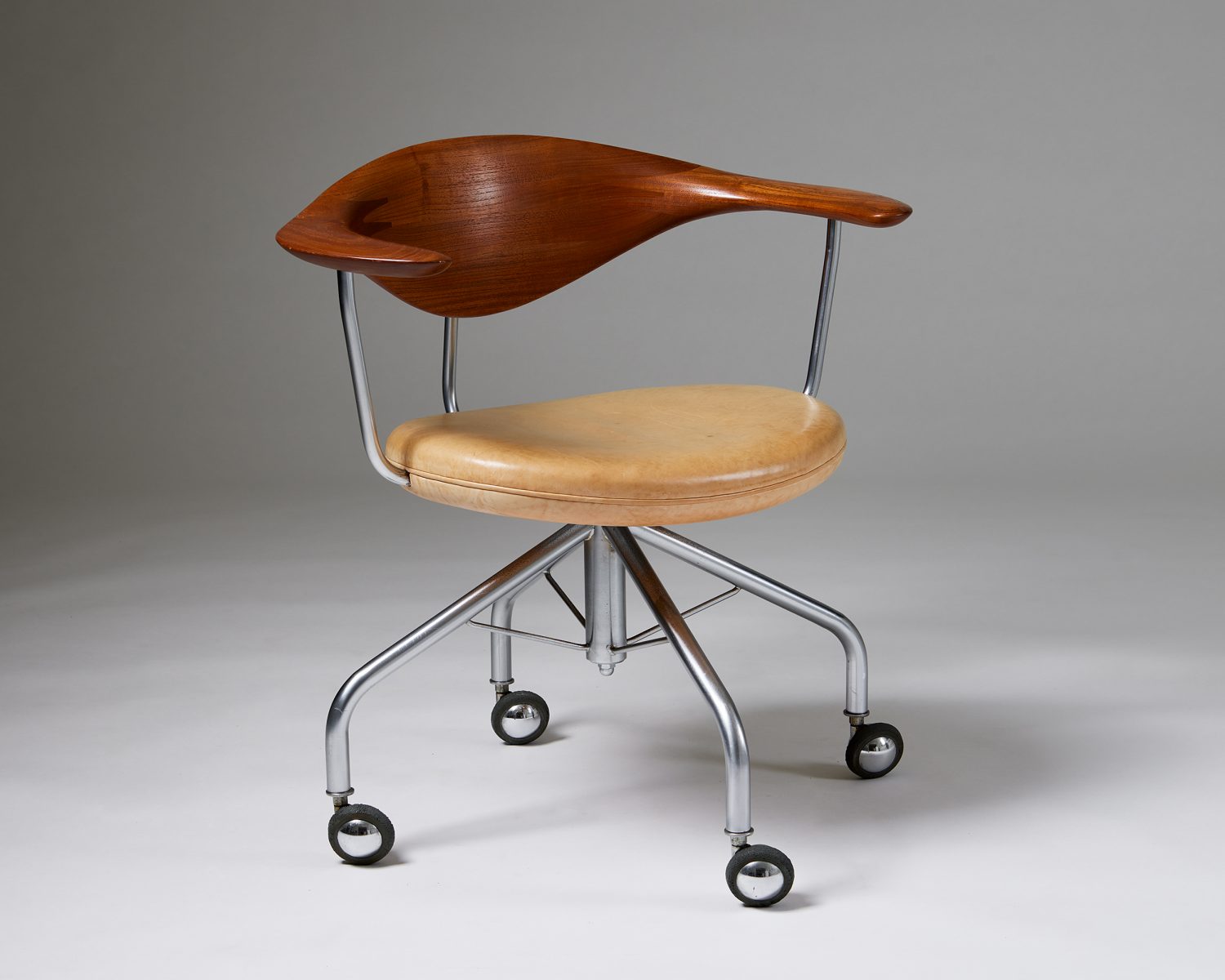 'Swivel' chair model 502 designed by Hans J Wegner for Johannes Hansen,
Denmark. 1950s.
Teak, leather and steel.
Signed.
Hans J Wegner's 'Swivel' chair model 502 should be seen as nothing less than a design classic. The ingenuity of the chair lies in the designer's deep respect for the materials used and his ability to manipulate them to his advantage. The steel frame connects the beautifully patinated leather seat to the teak backrest which is bent almost like a propeller. The low backrest of the chair demonstrates Wegner's concern for ergonomics. This was inspired by Dr Egill Snorrason's critique of Danish design in general. Dr Snorrason argued that Danish chair makers did not consider supporting the sitter's lower back enough, but that Wegner's designs were the exception to the rule.
Wegner's use of steel continues to the lower section of the chair, all of which is positioned on four casters made by the English manufacturer Archibald Kendrick & Sons. This example is the first version with the four tubular steel legs with later models of the 'Swivel' chair being produced with five legs for improved stability. This combined use of steel and wood is very rare in Wegner's chair designs and made the production of the chair incredibly expensive. The joiner, the upholsterer and the blacksmith had to work closely to combine the materials they were working with cohesively. Wegner was asked if the 'Swivel' chair was for the boss or for the secretary. He replied, "No, it's too expensive for the secretary. It's for the boss who will appreciate being able to sit correctly in the chair".
The 'Swivel' chair was presented at the Copenhagen Cabinetmaker's Guild Exhibition at Kunstindustrimuseet in 1955.
Please feel free to read our online article 'Hans J Wegner – Father of 500 Chairs' by
clicking here
.
Provenance: The 'Swivel' chair model 502 forms part of the collections of many international museums, not least the Metropolitan Museum, New York City.
H: 74 cm / 2' 5''
W: 73.5 cm / 2' 5''
D: 52 cm / 20.5''
SH: 73.5 cm / 2' 5''
D: 52 cm / 20.5''

* SOLD *