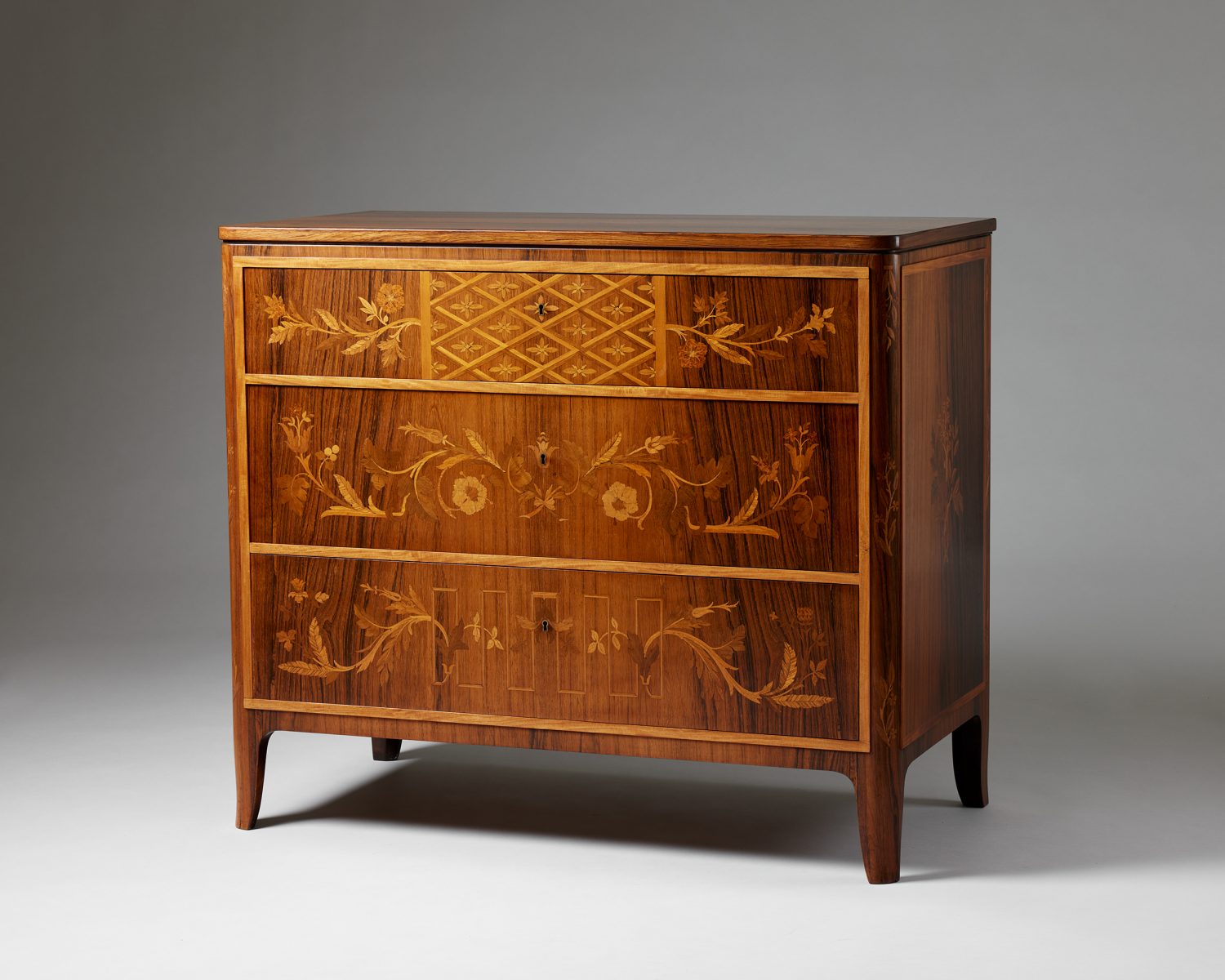 Chest of drawers designed by Carl Malmsten,
Sweden, 1930s.
Veneered mahogany, jacaranda, birch, and fruit trees.
Stamped.
Made by master carpenter Albin Johansson.
This chest of drawers was designed by Carl Malmsten in the 1930s and showcases a harmonious blend of floral and geometric inlays. Its attention to detail makes it a true testament to Swedish design and craftsmanship.
The floral and geometric inlays on the chest of drawers are masterfully executed. The delicate blossoms and leaves of the floral motifs are reminiscent of Swedish folk art. The geometric patterns bring a sense of structure and order to the design; elements, such as rhombuses, rectangles, and triangles, are precisely incorporated into the composition. The craftsmanship of Albin Johansson, the master carpenter who brought Malmsten's design to life, is evident in the expert joinery, precise detailing, and flawless finish.
Carl Malmsten (1888-1972) was a prominent Swedish furniture designer and architect known for his significant contributions to Scandinavian design. Born in Stockholm, Malmsten's artistic career spanned several decades, during which he played a pivotal role in shaping the aesthetics and functionality of modern Swedish furniture. His designs embodied a timeless elegance, combining simplicity with meticulous craftsmanship and attention to detail. Malmsten had a deep respect for traditional Swedish craftsmanship.
H: 87 cm / 2' 10 1/4''
W: 100.5 cm / 3' 3 1/2''
D: 51.5 cm / 20 1/4''

Price: on application