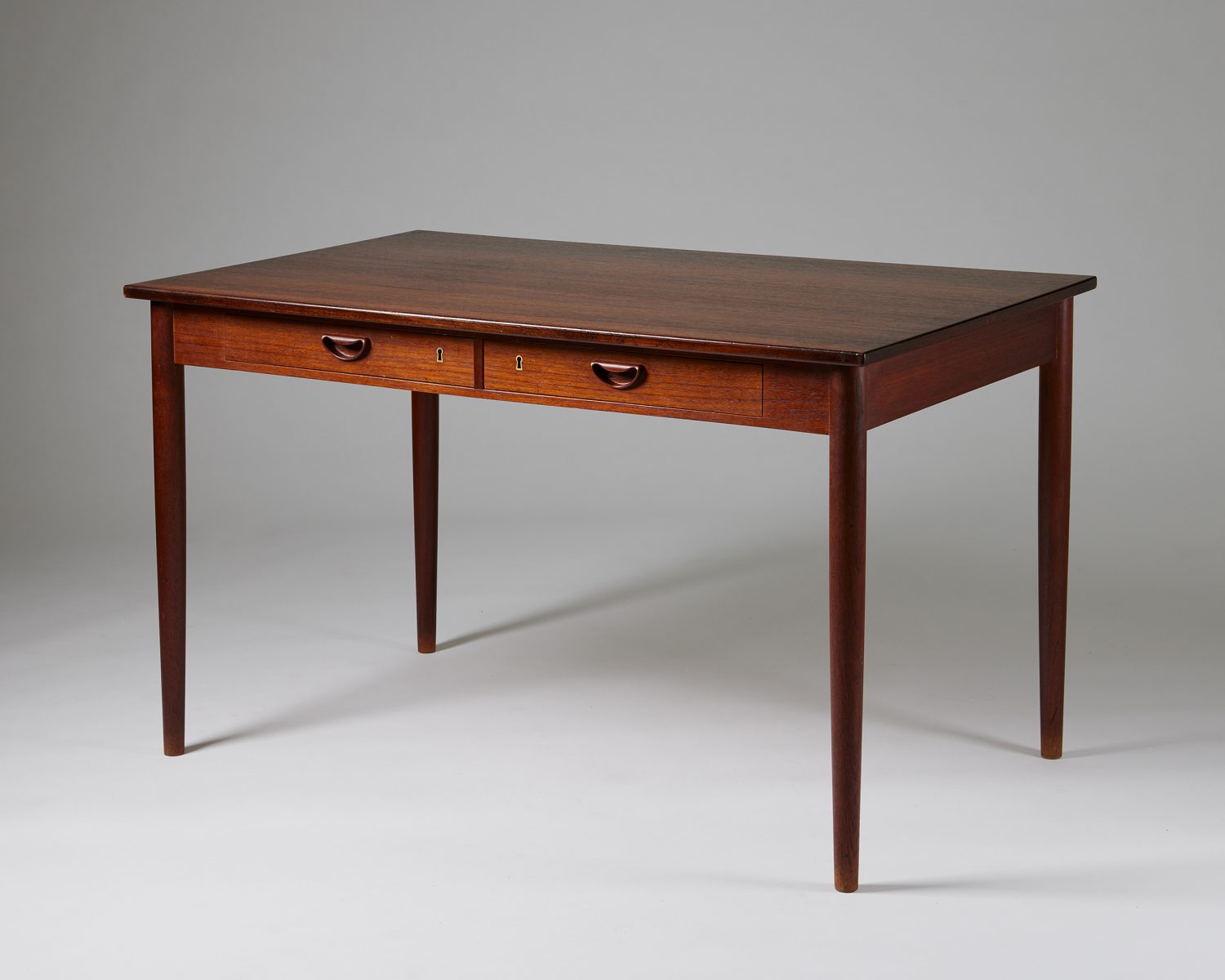 Desk designed by Peter Hvidt and Orla Mölgaard Nielsen for Söfborg Möbelfabrik,
Denmark. 1950s.
Teak.
This desk designed by Peter Hvidt and Orla Mölgaard-Nielsen is a staple design piece for any home or work office. This piece's design is categorised by high-quality craftsmanship. Its simplistic silhouette and spacious tabletop make it a practical worksurface. Made entirely of teak, the desk's four sleek legs taper gradually from top to bottom. The tops of the legs form intersections at the desk's corners, joining together the long and short sides. Two symmetrical drawers have been built into the tabletop.
The functional desk was designed with few decorative elements. On closer inspection, however, you can see that the drawer handles have been delicately crafted to create neat semi-circular grooves used to pull open the desk's storage compartments. A wonderfully natural pattern is also created by the grain of the teak desk surface.
Peter Hvidt (1916 – 1986) and Orla Mölgaard-Nielsen (1907 – 1993) were Danish furniture designers and architects. In 1944, the designers opened the design firm Hvidt & Mölgaard. Together they took on projects such as the De Danske Sukkerfabrikker building in Copenhagen, Denmark and their furniture has been exhibited at several international institutions, most notably the MoMA in New York.
H: 73 cm / 2' 4 3/4''
W: 125 cm / 4' 1 1/4''
D: 75 cm / 2' 5 1/2''

Price: on application