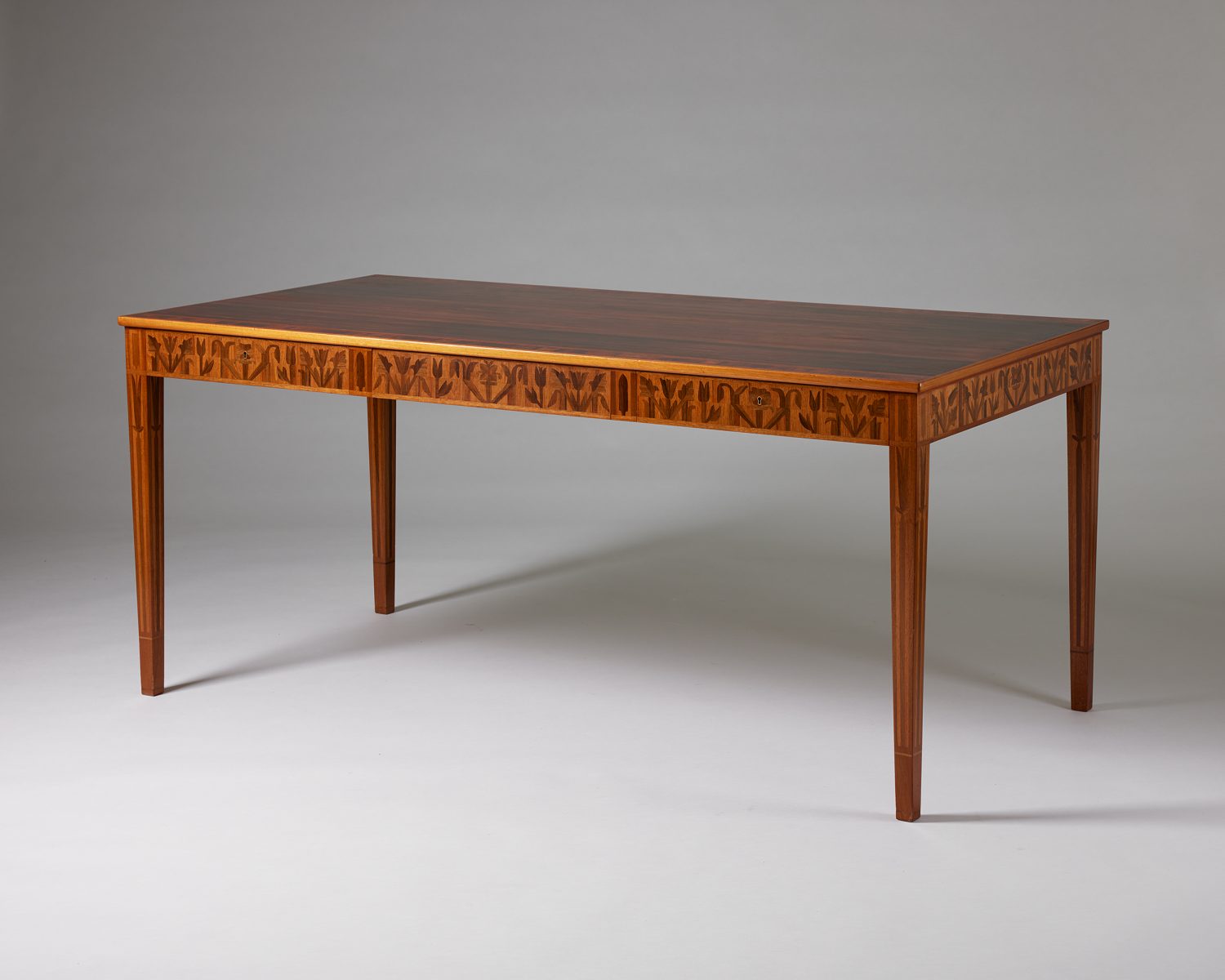 Desk 'Ståndare' designed by Carl Malmsten,
Sweden, 1950s.
Mahogany and walnut, boxwood inlays.
Stamped "CM".
Provenance: From a private Swedish collection.
A combination of intricate marquetry work and clean lines characterise this mahogany desk by Carl Malmsten from the 1950s -1960s. The reduced shape and long tapered legs bring to mind desks from the late Gustavian period, around the turn of the nineteenth century, inspired by French Neoclassicism. This had been the leading style in Swedish architecture, decor, and crafts.
The decorative floral pattern is achieved on the desk's apron through exquisite inlays of exotic wood. Hence the desk bears the name 'Ståndare', the Swedish word for stamen, a flower's pollen-producing reproductive organ.
The contrast between a stripped-down formal aesthetic and rich, ornamental details defined Malmsten's work. He took a stand against the sterile varieties of functionalism that came with industry.
Carl Malmsten (1888 - 1972) was a Swedish furniture designer, interior designer, and educator known for his devotion to traditional Swedish craftsmanship. He famously designed the interior of the Swedish suite at the Waldorf Astoria in New York in 1930 and presented his furniture and furnishings at the New York World Fair in 1939.
H: 75 cm / 2' 5 1/2''
L: 170 cm / 5' 7''
W: 85 cm / 2' 9 1/2''

* SOLD *