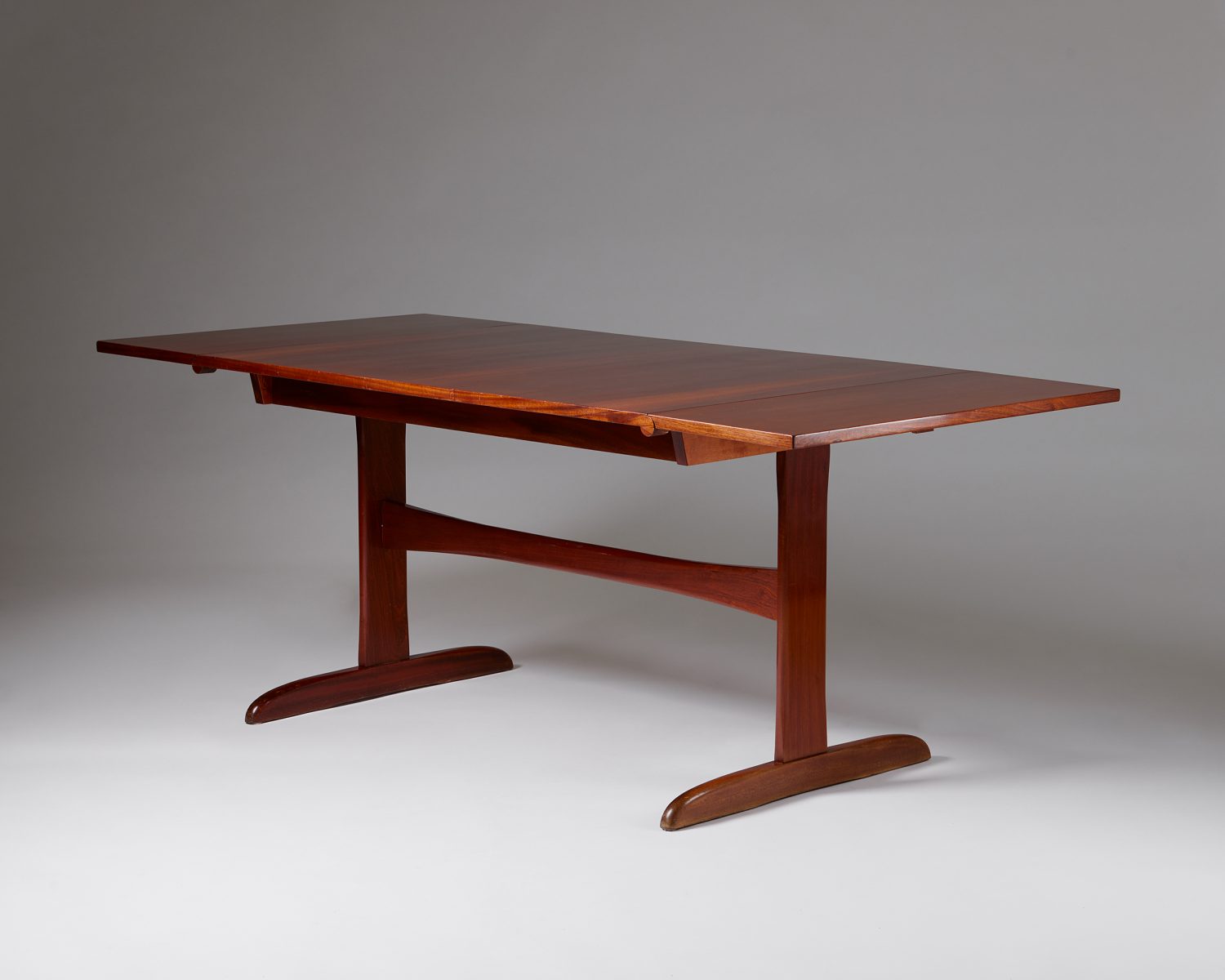 Dining table model 1197 designed by Josef Frank for Svenskt Tenn,
Sweden, 1940s.
Mahogany.
This simple yet elegant dining table is an excellent example of how Josef Frank combined Viennese elegance with Swedish functionalism to achieve a truly unique design style. The mahogany dining table exudes a sense of luxury owing to the naturally rich tones of the wood. The tabletop can be extended by raising the two drop leaf ends that are attached by discreet hinges. These drop leaf extensions are held in place by supporting struts that pull out from the underside of the table's surface. An expertly crafted shaker-style base supports the tabletop. Shaker furniture was developed by a religious group that valued simplicity and utility. These beliefs were reflected in the functional form of minimalist design.
Together with Estrid Ericson and her furnishing company, Svenskt Tenn, Josef Frank sought to incorporate natural forms and colours into his interiors. His aim was to give the inhabitants a sense of freedom in enclosed spaces. Josef Frank believed that "ornament and complexity create peacefulness and get rid of the disturbing aspect of pure functional form". Josef Frank's impact on Swedish design is unparalleled.
H: 72.5 cm / 2' 4 1/2''
D: 85 cm / 2' 9 1/2''
L: 127 cm / 4' 2''
Extended L: 187 cm / 6' 1 1/2''
Literature: Marlene Ott-Wodni, 'Josef Frank 1995-1967 Raumgestaltung und Möberldesign', Hofmobiliendepot, Böhlau Verlag, Vienna 2015, p 354, model no 1197, this model is known since about 1942.

Price: 75 000 SEK

Approximate price in your local currency
6 728 EUR
7 207 USD
5 891 GBP
947 707 JPY