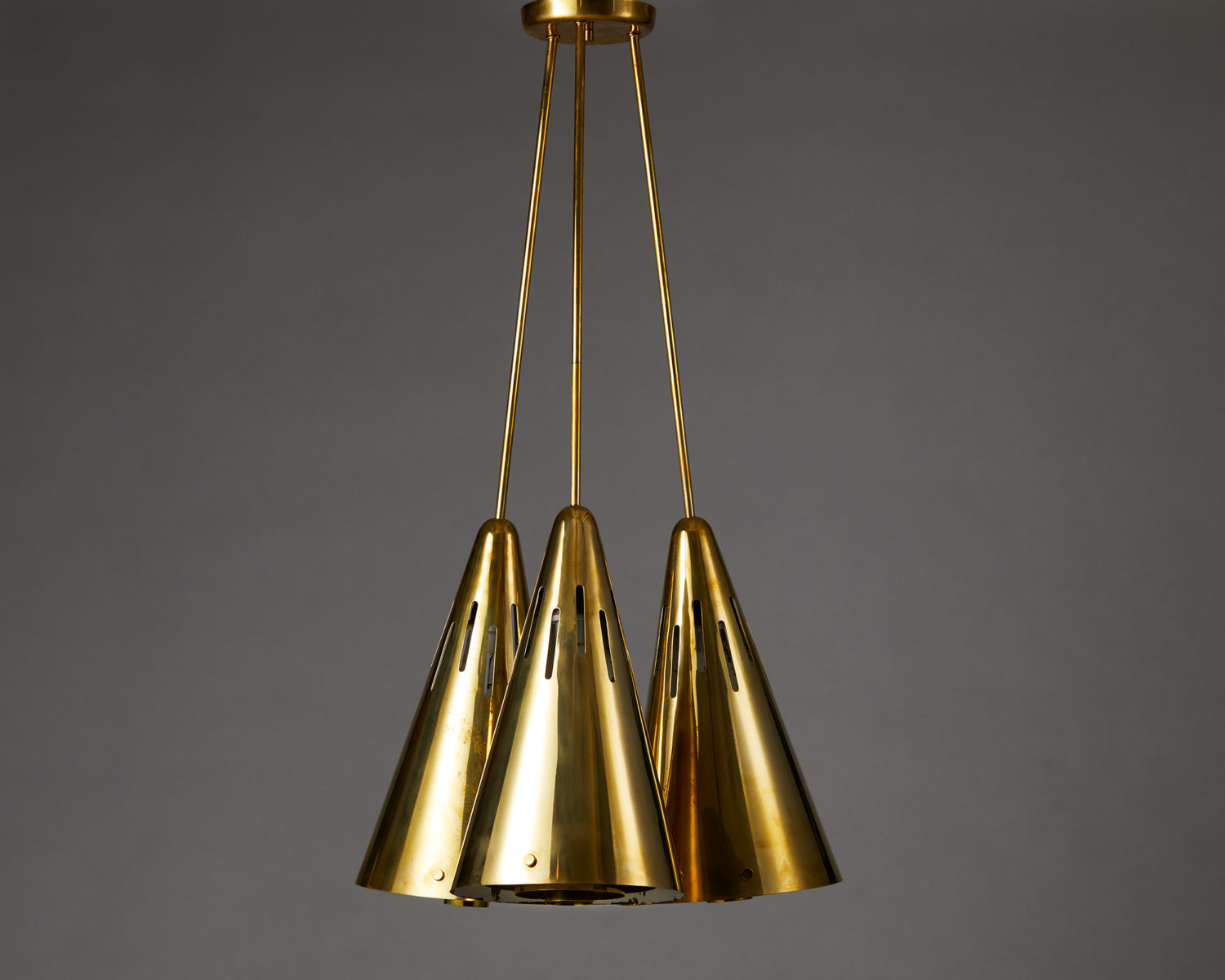 Ceiling lamp, designed by Paavo Tynell for Taito Oy,
Finland, 1950-1951.
Brass.
H: 119 cm/ 3' 10 1/2"
W: 57 cm/ 22 1/2"
Provenance:
This exact pendant was commissioned for and only used in the Evangelical-Lutherian Church at Meritullintori 3, in Helsinki. Truly spectacular in its simplicity; the suspension of the three separate brass pendants is beautifully composed to create a cluster-like effect as they come together. This model is slightly different to Tynell's usual brass lighting style, as it does not include his signature intricate perforations seen in the Snowflake chandelier and various other pieces, instead it has more linear and parallel apertures towards the top of each pendant. They give off a soft glow mainly radiating from the narrower top part of the shades. Attached is an archival photograph of these models in situ.
Bibliographie:
Architecture magazine, Helsinki, 1953.
One of the best loved and most acclaimed Finnish designers – Paavo Tynell was born in Helsinki, Finland, in 1890. He was an industrial designer, often referred to as 'the man who illuminated Finland' through his world-renowned and extremely sought-after work, formed mostly from perforated and polished brass. He was a true pioneer of Nordic lighting design, with his early work proving to be of a functionalist nature during the first stages of his awe-inspiring career. His works today are some of the most coveted collectors items in Nordic lighting design.

* SOLD *