Kaare Klint, an ode to a master.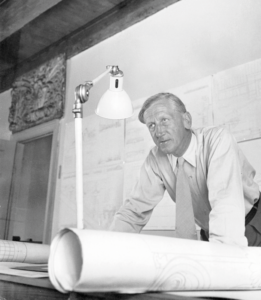 Kaare Klint was the father of Scandinavian modernism and is responsible for bringing Danish design to the centre stage. History has rarely seen such an impact left on the world of design by just one person, as Kaare Klint created a design language that would be spoken by designers for decades to come. The Danish golden age and Scandinavian modernism are periods that made Kaare Klint's name synonymous with icon.
Kaare Klint's appreciation for clean lines, simple ornamentation and an understanding of the human body translated into a design philosophy that has truly influenced the designs of today. Kaare Klint crafted pieces that embodied a perfect balance of form and function. This balance was achieved from his education as an apprentice in his father's architectural practice. This is where he was educated in classic realism and ergonomics, this allowed him to understand the proportions and requirements of furniture.
Kaare Klint's training focused a great deal on classical design on a global scale. Egyptian neoclassical design elements run through the veins of pieces such as the three-seater sofa pictured below:
Three seater sofa designed by Kaare Klint, manufactured by cabinetmaker N.M. Rasmussen. Holbæk. H. Denmark, 1916.
A sketch by Kaare Klint of the sofa. Faaborg Museum, Denmark.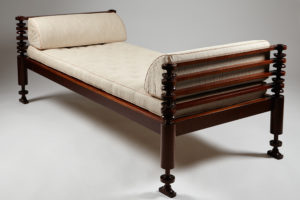 Daybed designed by Kaare Klint for NM Rasmussen, Denmark. 1917.
"Kaare Klint paid great attention to detail in his designs, the daybed is a great example to how he brings a sense of lightness to the design through the legs and feet. The daybed is a large piece, but the turned discs and carved feet gives the impression of weightlessness to the design." – Says Andrew Duncanson, founder of Modernity.
Rattan, or cane, is a staple in most Danish pieces, it reflects the craftsmanship and technical thinking of the design, a woven artwork. Kaare Klint's use of materials was not limited to his Danish backyard, Klint built a palette from sampling different woods and leathers from a variety of sources.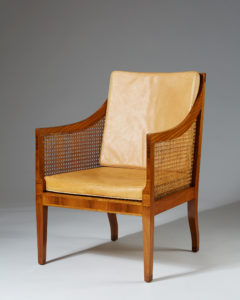 Armchair model 4488 designed by Kaare Klint for Rud. Rasmussen, Denmark. 1931.
Pictured below is the Easy chair "Mix" designed by Kaare Klint and Edvard Kindt-Larsen for Rud. Rasmussen, Denmark. 1937. Klint used patinated Niger leather to accentuate flow of the mahogany frame. Klint named the "Mix" to recognise the collaboration with his student Edvard Kindt-Larsen, but the name also unknowingly identifies the mixture of the Nigeran material and Danish design.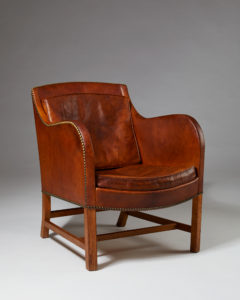 Easy chair "Mix" designed by Kaare Klint and Edvard Kindt-Larsen for Rud. Rasmussen, Denmark. 1937.
The pieces Kaare Klint crafted encapsulate technical perfection, masked by a minimalist aesthetic. The joinery flawlessly fits together, questioning whether the pieces were crafted from a single block of wood. The use of Niger leather in Danish furniture was iconised by such pieces as the aforementioned "Mix" chair and the "Red" chair (pictured below), designed for the 1929 world exhibition in Barcelona.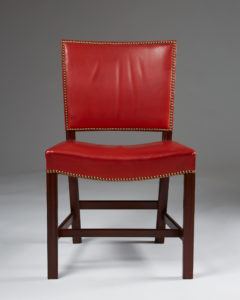 "The Red Chair" designed by Kaare Klint for Rud. Rasmussen, Denmark. 1933.
Kaare Klint's legacy was imbued in the physical, his architectural and furniture masterpieces and the philosophical, as a lecturer Kaare Klint passed on his knowledge to students that would continue to inspire pieces based on his design philosophy.
Kaare Klint's career began as a painter, one of considerable talent, but fate pushed him into apprenticing at his father's architectural practice. Kaare Klint worked as both architect and furniture designer and designed pieces of the Faaborg museum as well completing his father's architectural projects.
Kaare Klint was also an educator, Klint gained employment at the School of Furniture Design at the Academy of Fine Arts. In 1924 he became a lecturer and in 1944 he became a professor of architecture. This position at the school allowed for Kaare Klint to inspire the minds of students that would also reach infamy; Hans J. Wegner, Mogens Koch, Arne Jacobsen and Poul Kjærholm, amongst others.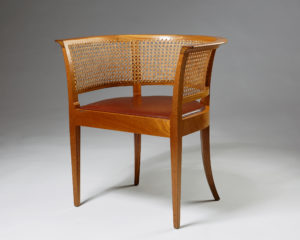 Faaborg chair designed by Kaare Klint for Rud. Rasmussen,
Denmark. 1914.
2020-02-20