The exclusive modern design gift guide
Christmas is the perfect time to indulge the ones you love (or yourself) with a timeless piece of modern design. Whether you chose a lamp, a piece of furniture, glass, ceramics, textile or jewelry at our gallery, you will feel comfortable in picking a carefully curated item. Andrew Duncanson, Modernity's founder, is one of the most asserted specialists in Scandinavian design worldwide, and he puts all his passion and expertise in meticulously building the gallery's collection. The objects below are all rare pieces, if not simply unique, most are vintage, and all made with unrivaled craftsmanship.
1-
Magazine rack
designed by Carl Auböck, Austria. 1950's. (9.500SEK / 970€)
2- Unique
Vase
designed by Berndt Friberg for Gustavsberg, Sweden. 1950's.(32.500SEK / 3.318€)
3-
Sterling silver necklace
designed by Rey Urban, Sweden. 1960's. (6.500SEK / 664€)
4-
Book ends
designed by CE Borgström for Ystad Metall AB, Sweden. 1930's.(14.500SEK / 1.480€)
5-
Necklace
designed by Bent and Helga Exner, Denmark. 1970's.(29.500SEK / 3.012€)
6- Brooch designed by Estrid Ericson for Svenskt Tenn, Sweden. 1960's. (2.800SEK / 285€)
6-
Bracelet
designed by Torun Bülow-Hübe for Georg Jensen, Denmark. 1960's.
7-
Brooch
designed by Bent Exner, Denmark. 1960's.
All orders placed and paid for by December 12, 2016 will be prioritized for delivery before the Holiday. Jewelry items are carefully placed in exclusive gift boxes
Visit
our website
for more exclusive items.
2016-12-02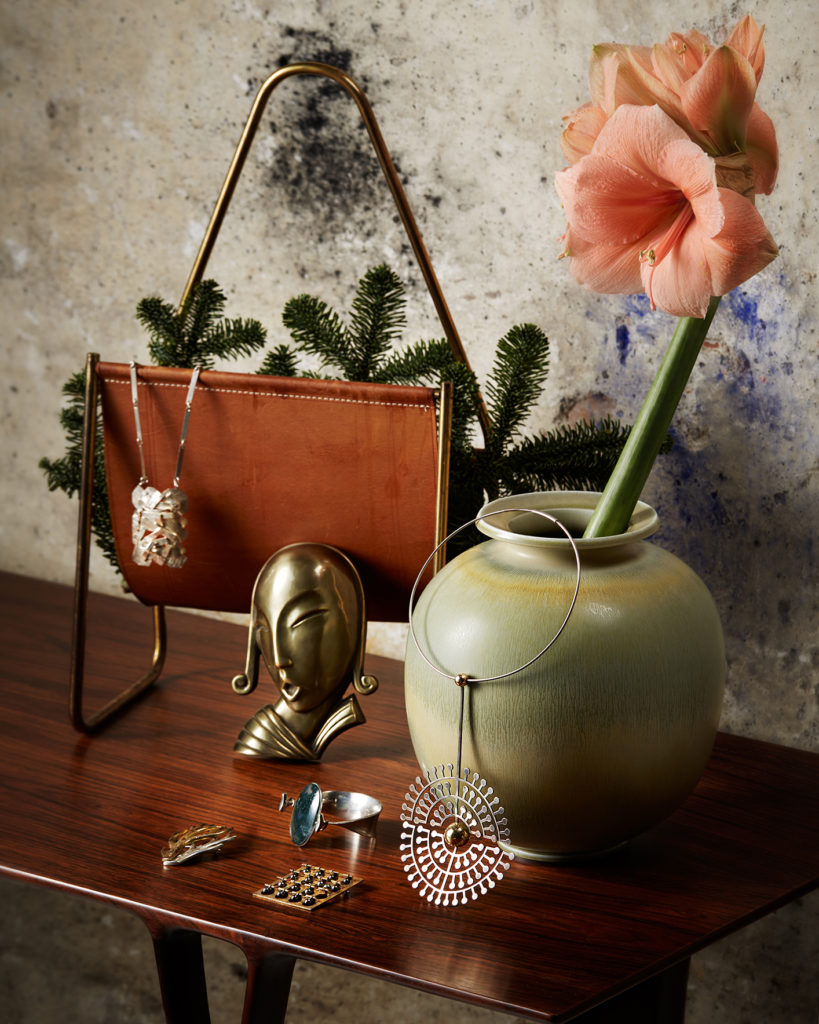 From left to right: Carl Auböck magazine rack, Bendt Friberg vase, Rey Urban necklace, Borgström book ends, Exner necklace, Estrid Ericson brooch, Torun bracelet, Bent Exner brooch © Åsa Liffner