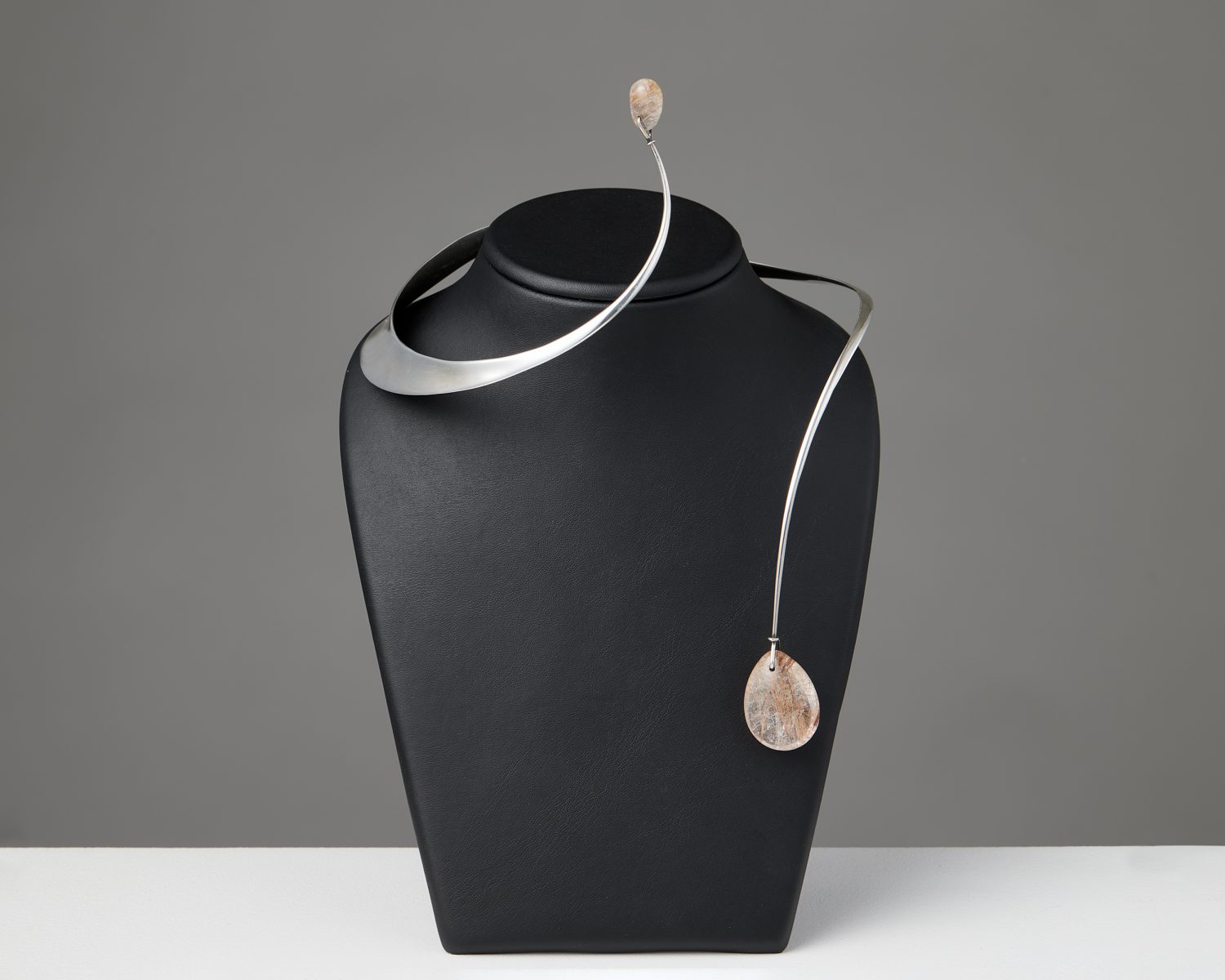 Necklace 'Mobile' by Vivianna Torun Bülow-Hübe,
France, 1959.
Sterling silver and rutile quartz.
Stamped.
Awards:
Lunning Prize, 1960.
Gold Medal at the Milan Triennale, 1961.
The 'Mobile' necklace is one of Torun's most iconic pieces.
Designed as a wraparound (torque) necklace, quartz balances the weight and allows for the piece to whirl around the neck. This was groundbreaking in jewellery design. No one had previously made an asymmetrical piece of this kind. In 1960, a year after Torun made the piece, she was awarded the Lunning Prize – the prestigious Nordic design prize. Torun believed that it was because of the 'Mobile' necklace and the recognition she received for it that she won the prize.
Vivianna Torun Bülow-Hübe's jewellery references organic shapes and brings to mind plant leaves, blossoms, swirls, and the flow of water. Her minimalist forms and simple lines are sensual and achieve reduced elegance. She frequently combined silver with found pebbles, shells, wood, seeds, and fossils and used comparably inexpensive materials, such as granite, rock crystal, moonstone, and quartz.
Vivianna Torun Bülow-Hübe was a master jeweller and silversmith and is one of the most important Swedish designers of the twentieth century. She is known as 'Torun' and is the first female silversmith to have received international recognition. Throughout her career, Torun worked in Sweden, France, Germany, and Indonesia.
Read more about Vivianna Torun Bülow-Hübe
L: 21 cm / 8 1/4''
W: 16 cm / 6 1/4''
Literature:
'Conversations with Torun' by Karin Westin (ed. Carlsson) and in 'the Lunning Prize' exhibition catalogue published by the Swedish National Museum.

Price: on application