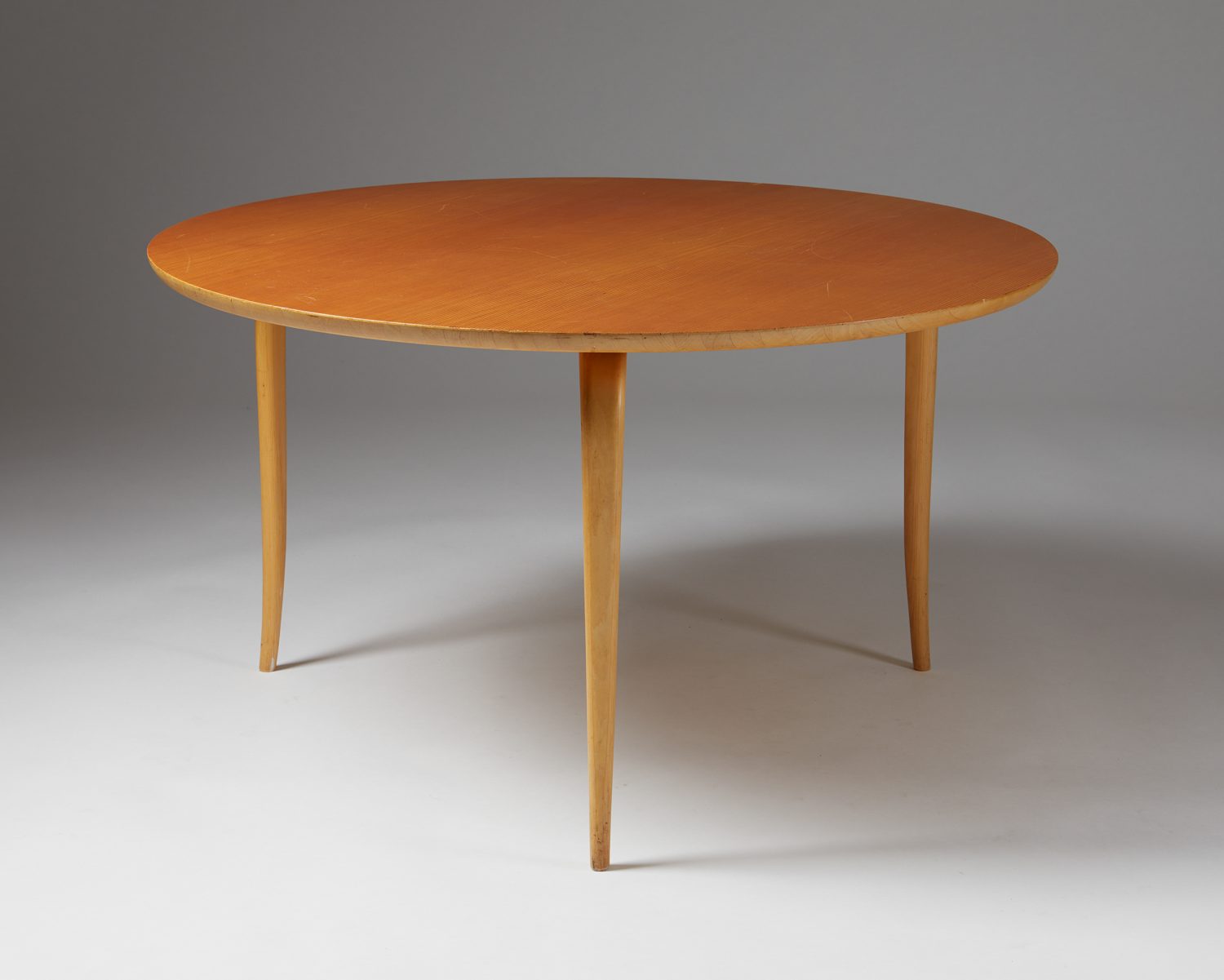 Occasional table 'Annika' designed by Bruno Mathsson for Karl Mathsson,
Sweden. 1967.
Birch and Oregon pine top.
Stamped.
This round "Annika" occasional table was manufactured in 1967 and designed in 1936; it is made of birch with a smooth Oregon pine top. Bruno Mathsson created various iterations of his "Annika" model — they come in three shapes with different wood combinations and various heights. They can be round with three legs, square with four legs, or rectangular with six legs, allowing exciting and contrasting combinations when grouped. While the design aesthetic is delicate, the table is very well-made because of the strong plywood.
Bruno Mathsson's love for nature pervades all his designs — he frequently slept outside in the forest or his garden on a specially designed foldable bed. His furniture shapes, particularly the legs, bring bull's horns or insects to mind. Mathsson was one of the most important Swedish designers of the 20th century. He was a contemporary of Alvar Aalto and Marcel Breuer, all of whom had already experimented with bent plywood during the 1930s.
Karl Mathsson, Bruno Mathsson's father, was the fifth generation in a family of master cabinet makers. He owned a furniture manufacturing company that produced the earlier pieces; later, they founded "Mathsson International". The stamp indicates the manufacturing date and, sometimes, the design date. Bruno Mathsson often gave his furniture Swedish woman's names like "Annika", "Eva", or "Pernilla".
H: 59 cm / 23 1/4"
Diameter: 105 cm / 3' 5 1/4"

Price: 19 500 SEK

Approximate price in your local currency
1 681 EUR
1 763 USD
1 457 GBP
264 116 JPY