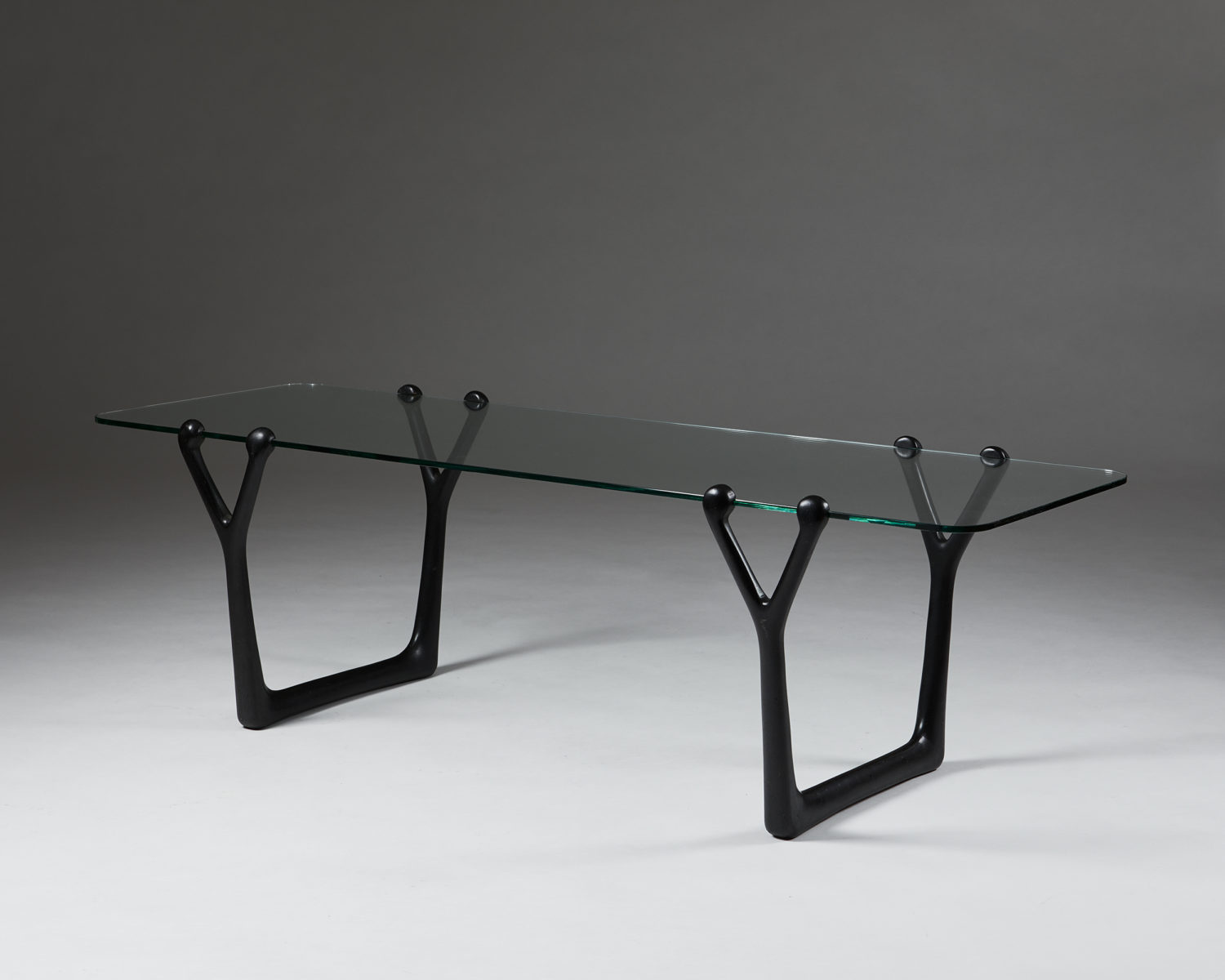 Occasional table designed by Helge Vestergaard Jensen,
Denmark, 1954.
Unique. Manufactured by Thysen Nielsen.
Ebonised wood and original clear glass.
Exhibited at the Cabinet Maker's Guild Exhibition in Copenhagen, 1954.
Provenance: From a private Danish collection.
The monochrome, sculptural aesthetic of this unique occasional table is defined by contrasting materials and the shape of the legs. It was designed in 1954 by Helge Vestergaard Jensen and is characteristic of his work in general. Each pair of legs resembles tree branches and is made of solid, ebonised wood. They are very sturdy and can be adjusted or removed entirely from the clear glass surface.
Along with Finn Juhl, Helge Vestergaard Jensen (1917-1987) was the most sculptural of the Danish masters, as can be seen in his table designs that frequently have branch-shaped legs. His pieces are highly sought after because they were made in limited quantities and never went into mass production.
Vestergaard Jensen is celebrated today for his sense of craftsmanship and attention to detail. After graduating from the Royal Danish Academy of Fine Arts' School of Furniture, Vestergaard Jensen worked at several major Danish architecture firms, including Kaare Klint, Hvidt & Mølgaard Nielsen, Palle Suenson, and Vilhelm Lauritzen, before establishing his own practice in 1950.
Thysen Nielsen is a Danish furniture manufacturer founded by Niels Thysen Nielsen in 1939.
Literature: Grete Jalk [ed.]: "40 Years of Danish Furniture Design", vol. 3, p. 299.
L: 150 cm/ 4' 11"
W: 50 cm/ 19 3/4"
H: 44.5 cm/ 17 1/2"

Price: on application