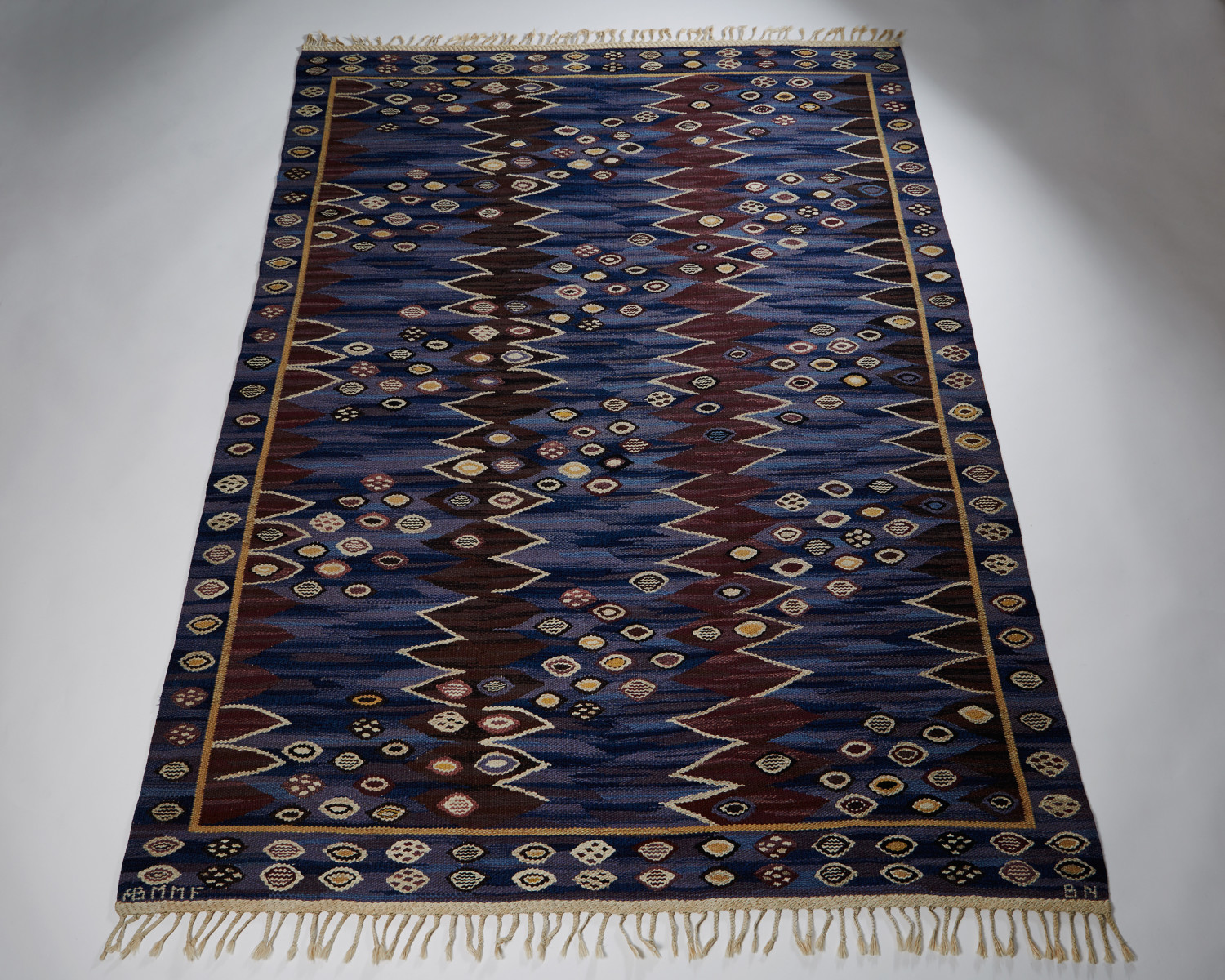 Rug 'Seashells' designed by Barbro Nilsson for MMF,
Sweden, 1943.
Handwoven wool.
Tapestry technique.
L: 270 cm/ 8' 10 1/2''
W: 196 cm/ 6' 5''
Barbro Nilsson introduced the gobeläng flatweave weaving technique to the studio when she became artistic director in 1942. Snäckorna (Seashells) was the first design to be executed in this manner, and has since become one of Nilsson's true classics. Drawing inspiration from the ocean, Snäckorna has strands of sea shells repeatedly strewn over a surface of varying blues. One Snäckorna is in the permanent collection of Nationalmuesum, Stockholm.
Barbro Nilsson was educated in weaving and dyeing and went on to become the head of textile at Konstfack, as well as executing several monumental tapestries in collaboration with contemporary artists. In 1942, Nilsson was chosen to manage and develop the Märta Måås-Fjetterström studio after the founder's passing the year before. With absolute certainty she transformed the ocean and the sky into mastered forms in muted colours.
Literature:
Tyra Lundgren: "Märta Måås-Fjetterström och väv-verkstaden i Båstad", Stockholm 1968, mentioned pp. 115 and 119.
"Märta Måås-Fjetterström, Märta flyger igen! 90 år med Märta Måås-Fjetterström", Liljevalchs Konsthall, pp. 97 and 145.

Price: on application