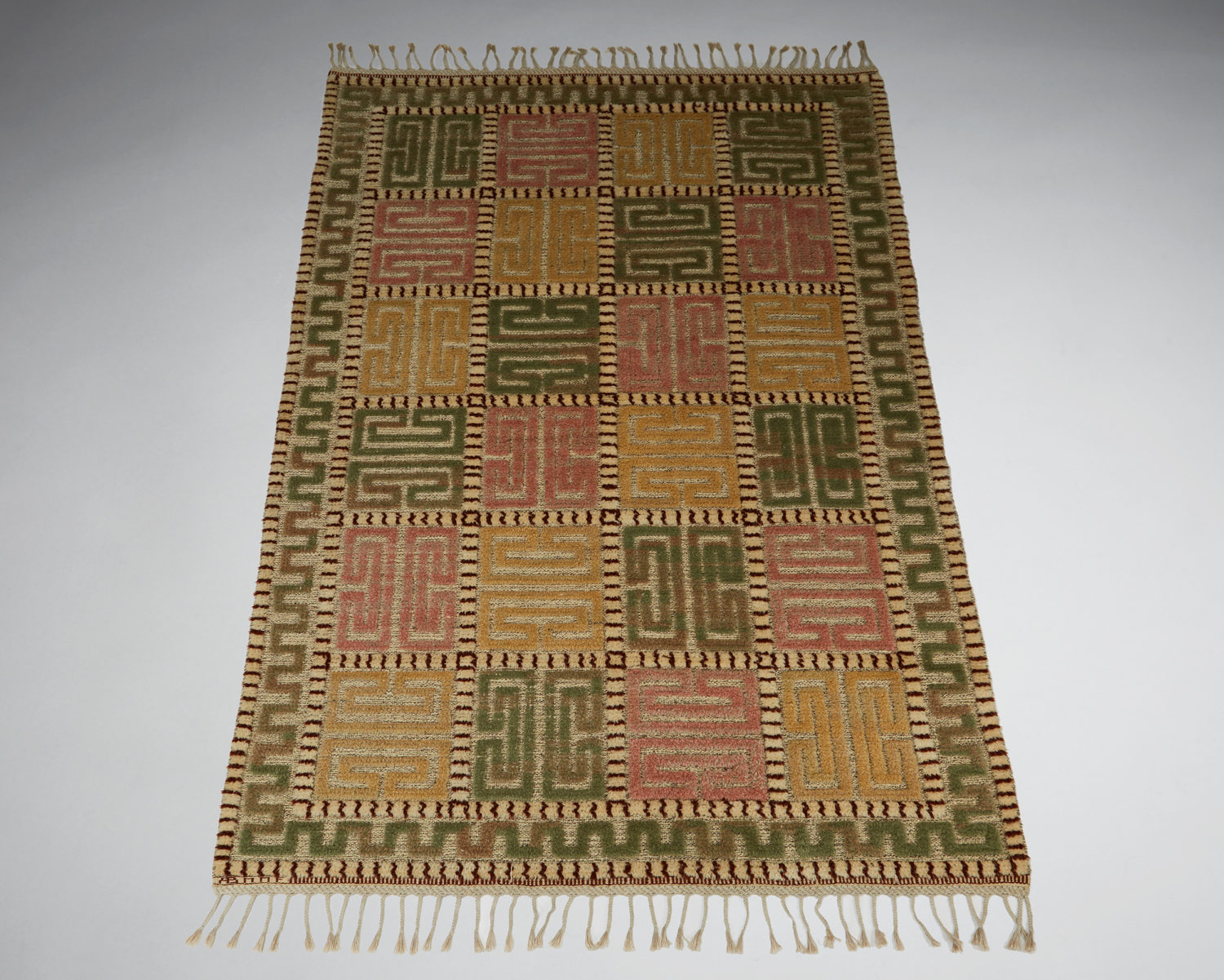 Rug "Ursula" designed by Märta Måås-Fjetterström for MMF AB,
Sweden. 1935.
Hand-woven wool.
Märta Måås-Fjetterström established her workshop in 1919 in the small coastal town of Båstad, in the south-west of Sweden. Over the course of the next decades, she would become one of the most prominent figures in the history of the Scandinavian textile industry; the woman who took textile into the realm of fine art. By bringing traditional weaving techniques back to life, she produced compelling work of exceptional quality and craftsmanship.
When Märta Måås-Fjetterström died in 1941, Barbro Nilsson succeeded her as workshop director and continued to create flatweaves and pile rugs. Ms Nilsson's creativity hardly knew any limits and led to the invention of tapestry-woven rugs. The playful way in which she used patterns and subtle colors is, according to us, remarkable.
The exceptional craftsmanship used in weaving the rugs have long been recognized by people in the industry. Her works merge rural Nordic traditions with modernist trends in an unparalleled way. Increasingly, these rugs are being considered by collectors as genuine works of art. They can be found in many museums such as: The Victoria & Albert Museum, The Metropolitan Museum of Art , The Louvre, Trondheim's Museum in Norway, The National museum (Stockholm), The Röhsska Museum of Design and Decorative Arts (Gothenburg), Nordiska museet (Stockholm) and many others.
L: 270 cm/ 8' 10 3/4 ''
W: 164 cm/ 5' 5''

Price: on application