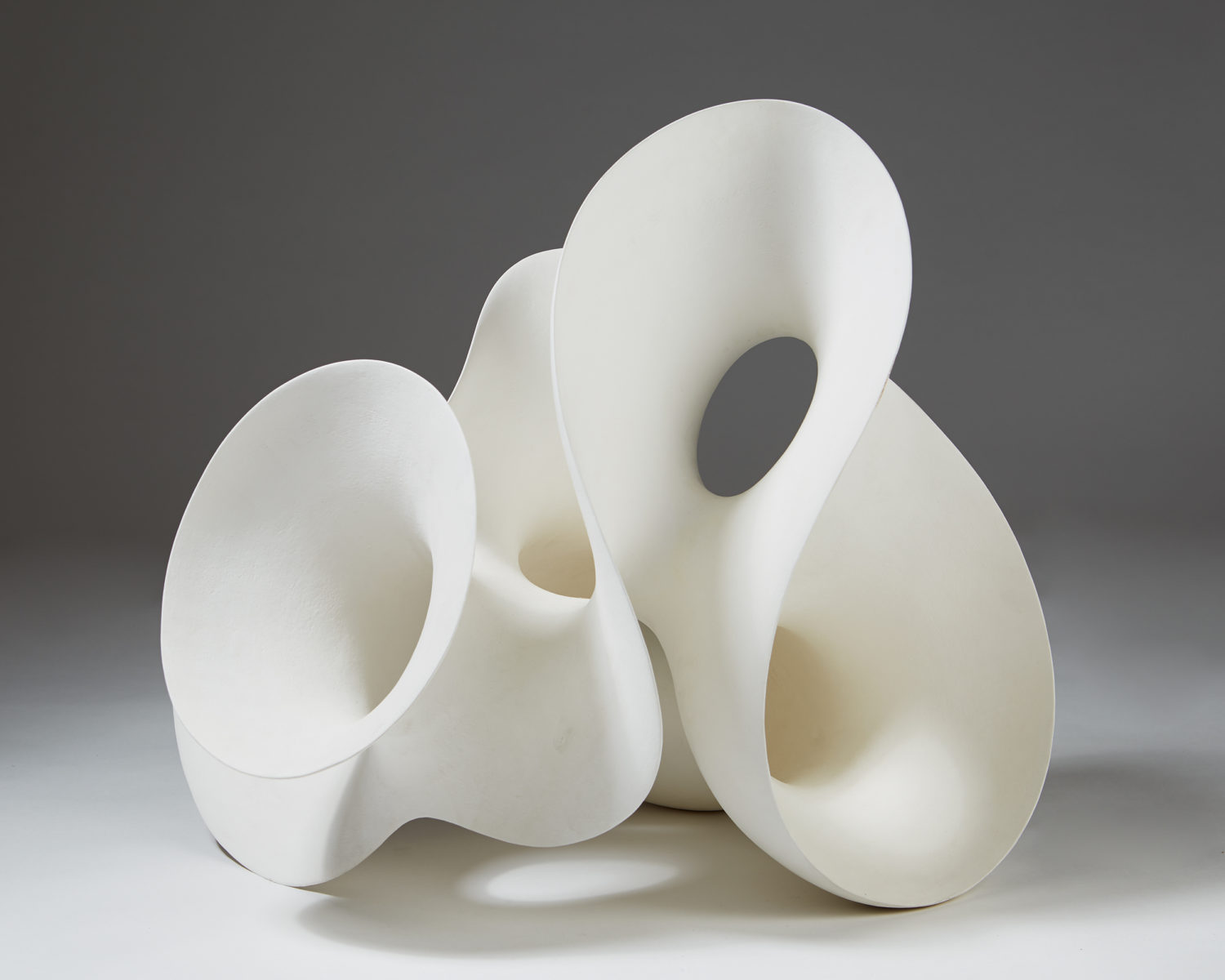 Sculpture designed by Eva Hild,
Sweden. 2003.
Stoneware. Unique. Signed.
H: 69 cm/ 2' 3 3/4'' D: 82 cm/ 2' 8 3/4'' W: 70 cm/ 2' 4''
Provenance: Estate of Pentti Kouri, NYC; Kim Heirston Art Advisory, NYC.
Notes/Literature: Dr. Pentti Kouri(1949-2009) was a Finnish economist and venture capitalist with partner George Soros. He built his prestigious art collection with the goal of opening a private art foundation focused on his interests in Minimalism, Arte Povera, Conceptual and Text-based art. He was a member of the Board of Trustees of Dia Art Foundation, and on the boards of Tate, London and the Guggenheim Museum, New York. In addition, a portion of his collection forms the core of the Kiasma Museum of Contemporary Art in Helsinki, Finland.
Biography: Eva Hild was born in 1966. She lives and works in Sparsör, a small town in the west of Sweden. Her art consists primarily of white or black stoneware sculptures; organic, non-figurative forms that shift between interior and exterior spaces. Her first solo exhibition was at Galleri IngerMolin in Stockholm in 2000 and since then her work has been widely exhibited, including shows at Nancy Margolis Gallery in New York, Galleri Andersson Sandström in Umeå and Galerie NeC in Paris. She is represented in museums and art collections both in Sweden and abroad including the Musée de Sèvres in Paris, Museum of Fine Arts in Boston, Museum of Contemporary Ceramics in Shanghai and Stockholm's National museum.

* SOLD *