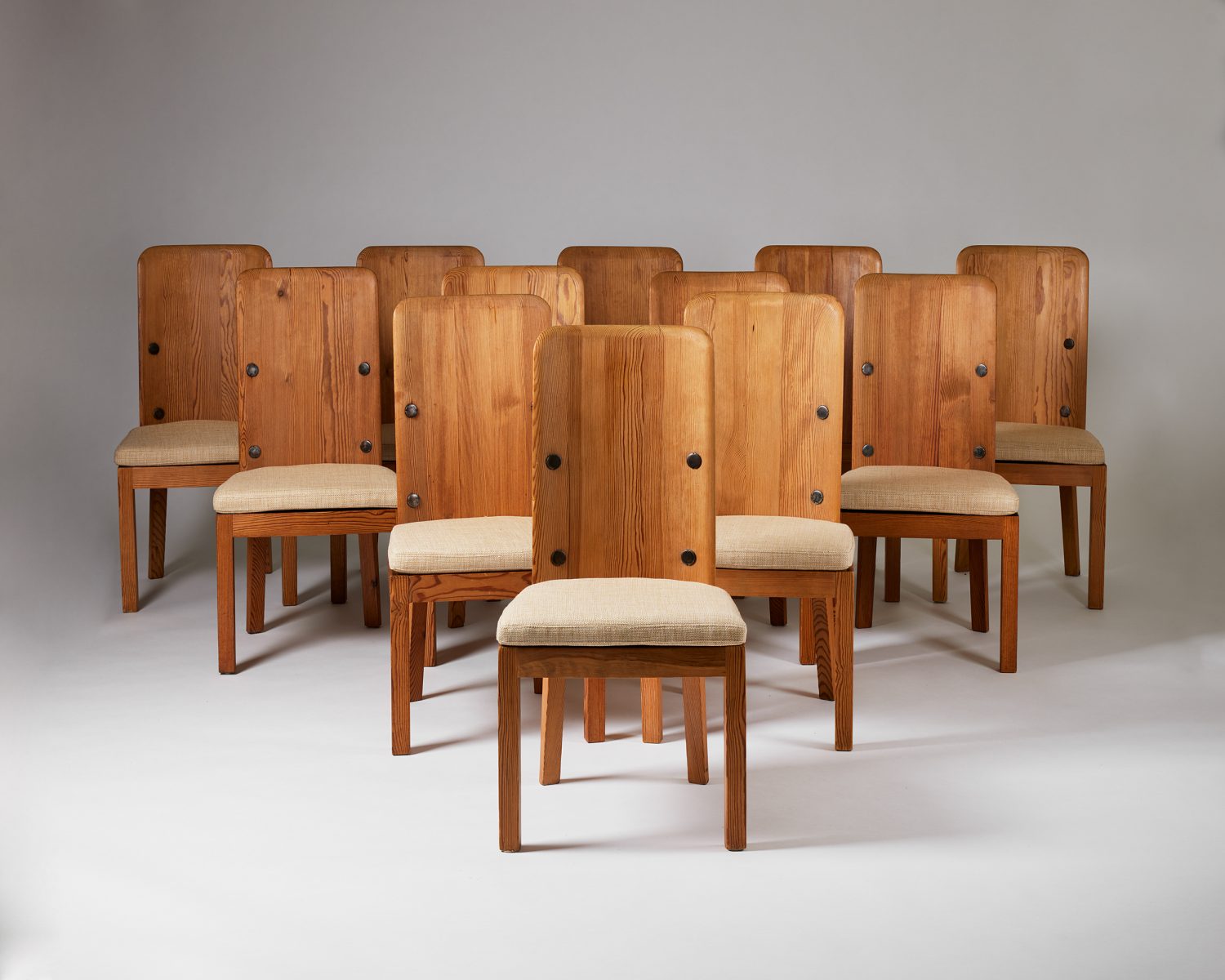 Set of twelve dining chairs model 'Lovö' designed by Axel-Einar Hjorth for Nordiska Kompaniet,
Sweden, 1930s
Pine and texile.
H: 96.5 cm/ 3' 2 1/2"
W: 47.5 cm/ 18 3/4"
D: 42 cm/ 16 1/2"
SH: 40.5 cm/ 15 3/4"
SH with cushion: 45.5 cm / 18''
From 1927 to 1938, Axel-Einar Hjorth was the chief architect and designer at the department store Nordiska Kompaniet in Stockholm—which was known as one of the most important producers of modernist furniture in Sweden. During this time, Hjorth designed both public and private interiors, and worked with international clients including Iranian royalty. His first project for NK was a stand for the World Fair in Barcelona in 1929, during which he exhibited the Louis Cabinet and Caesar Cabinet. In the 1930s, Hjorth took a different direction, designing far less ornamental furniture out of pine meant for serial production which mixed handicraft with international modernism.
Hjorth's designs - whether from the luxuriousness of neo-classicism to the severity of functionalism - are sharply distinct in style, materials, and character. Unlike many of his contemporaries however, he did not conform to the socially oriented ideas produced by Svensk Form. He often incorporated playful ornamentation from different historical periods from which he was inspired, such as French Art Deco, using mixed exotic woods, bright colours, and textiles.

* SOLD *