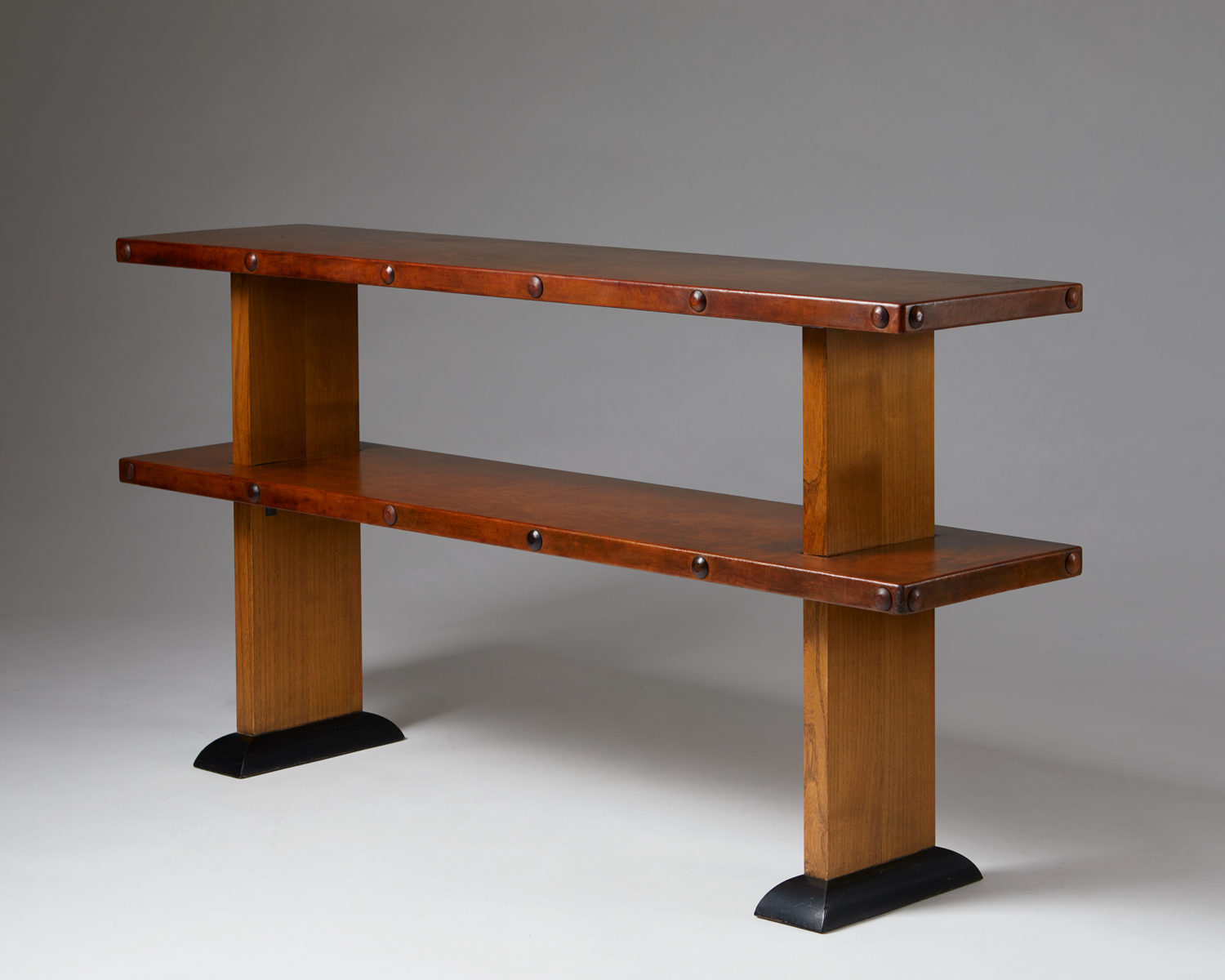 Shelf 'Funkis' designed by Axel Einar Hjorth for Nordiska Kompaniet,
Sweden, 1930.
Elm and leather.
Labelled R 35368 C 19 8 31 and AB NORDISKA KOMPANIET NK STOCKHOLM. The drawing in NK's customer gallery in the Nordic Museum's archive is dated December 6, 1930.
Provenance: From a private Swedish collection.
Axel Einar Hjorth designed the 'Funkis' model in 1930, and this specific shelf was produced in 1931 by Stockholm's most exclusive department store NK (Nordiska Kompaniet). With its clean lines, contrasting black feet and interesting combination of materials, the 'Funkis' shelf exemplifies the shifting style ideals of the time – from luxurious classicism to austere functionalism. This model has two leather-clad shelves with large circular studs on the sides as an optical detail.
Axel Einar Hjorth (1888 – 1959) was one of Sweden's greatest furniture designers. Between 1927 and 1938, he was the chief architect at Nordiska Kompaniet – the most important position a furniture designer could hold during the interwar period. He represented Sweden at international fairs worldwide, promoting contemporary Swedish decorative arts. Hjorth participated in the 1923 Gothenburg Exhibition, the 1929 World Exhibition in Barcelona, the 1930 Stockholm Exhibition, and the 1939 World Exhibition in New York. Following international acclaim, he was commissioned to create interiors for the Shah of Persia and Nordiska Kompaniet's Paris branch, amongst other projects. Hjorth's work — at the crossover of Swedish Grace and Modernism — is considered among the most important in Swedish design history.
H: 73.5 cm/ 2' 9"
W: 141 cm/ 4' 8"
D: 34 cm/ 13 1/2"

Price: on application