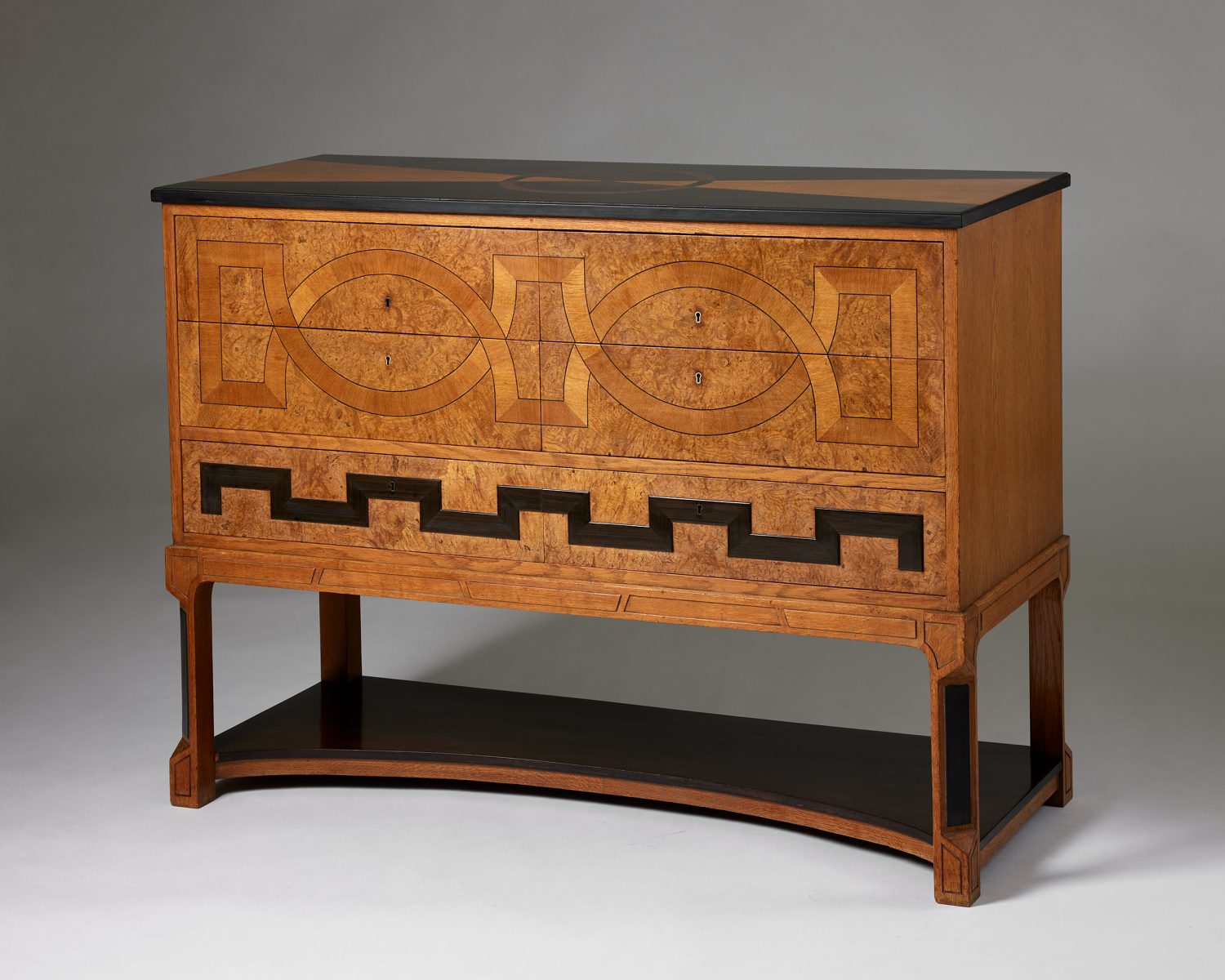 Sideboard designed by Carl Bergsten for Nordiska Kompaniet,
Sweden, 1923.
Oak.
Stamped.
Exhibited at the Gothenburg Exhibition, 1923.
Provenance: Arthur Glasser, head of a glass- and porcelain department at Nordiska Kompaniet.
Thence by descent.
This sideboard from 1923 was designed by the Swedish architect and furniture designer Carl Bergsten. It was produced by NK (Nordiska Kompaniet), Stockholm's most exclusive department store. The sideboard was presented at the Gothenburg Exhibition in 1923.
Constructed from oak wood, its functional design incorporates six drawers for storage. The surfaces of the sideboard are adorned with intricate geometric patterns – circular, semicircular, triangular, and rectangular inlays define the character of the piece. The carvings on the feet bring to mind the Wiener Werkstätte or English Arts and Crafts furniture. The craftsmanship and attention to detail are extraordinary. A small key elegantly locks the drawers.
This specific sideboard was in the home of Arthur Glasser, who was the head of the glass- and porcelain department at Nordiska Kompaniet.

 Carl Bergsten (1879 - 1935) ran his own architectural firm from 1904 - 1935. He was influenced by the National Romantic style and Functionalism. Bergsten designed a number of exhibition spaces, including Liljevalchs konsthall in Stockholm.
H: 89.5 cm / 2' 11 1/4''
W: 118.5 cm / 3' 10 3/4''
D: 48 cm / 19''

* SOLD *