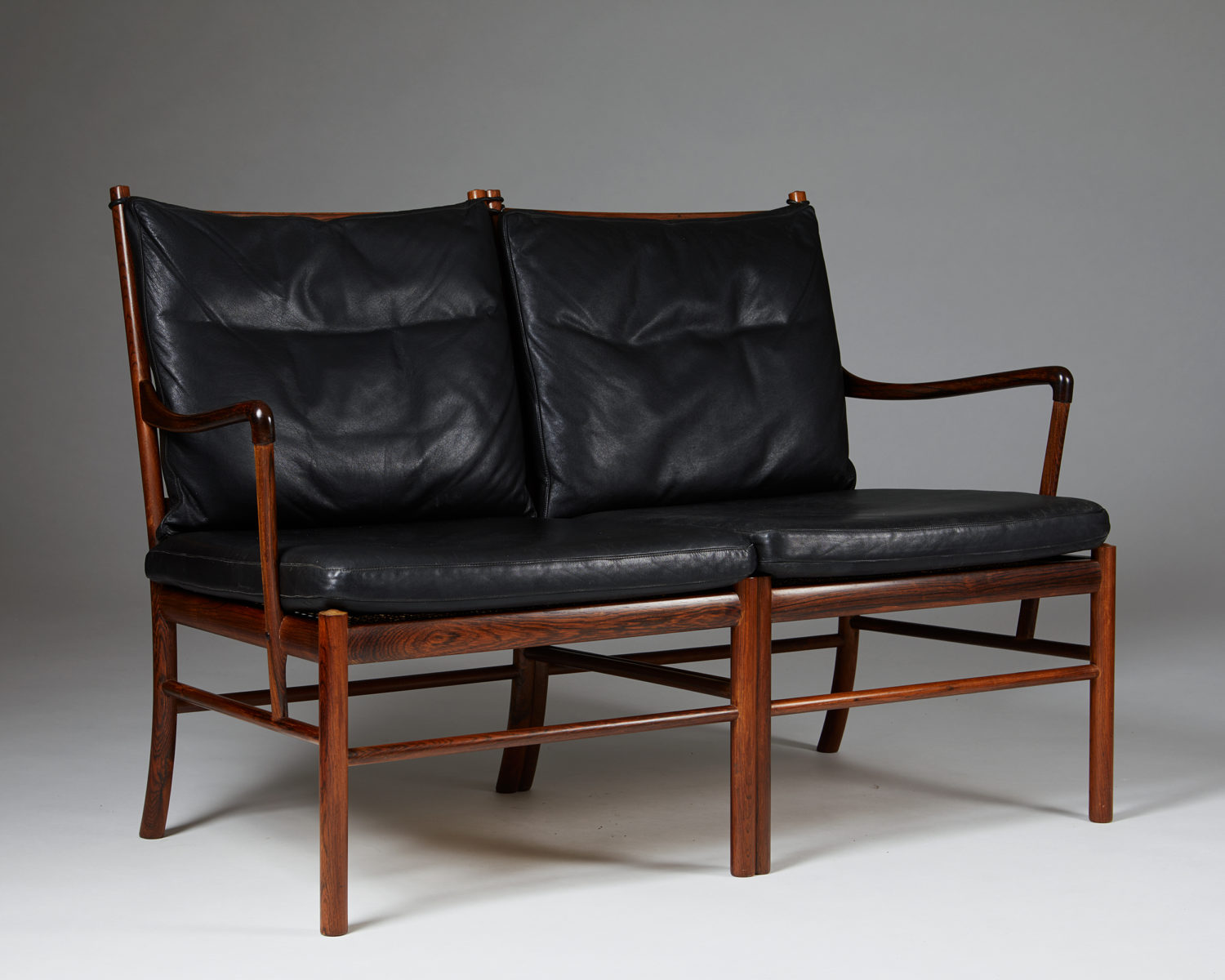 Sofa 'Colonial' designed by Ole Wanscher for P. Jeppesen,
Denmark, 1960s.
Brazilian rosewood and black leather.
H: 60 cm/ 1' 11 5/8"
W: 123.5 cm/ 4' 5/8"
D: 66 cm/ 2' 2"
SH: 43 cm/ 1' 5 7/8"
Ole Wanscher was a renowned Danish furniture designer who played a significant role in the mid-century modern design movement. One of his notable creations is the Colonial Sofa, which he designed for P. Jeppesen in Denmark during the 1960s. The Colonial Sofa reflects Wanscher's characteristic style, which blended traditional craftsmanship with a modern aesthetic. It was inspired by the colonial furniture of the 18th and 19th centuries, incorporating elements of elegance and sophistication into its design.
The Colonial Sofa features a sturdy wooden frame, typically constructed from solid wood such as teak or mahogany. The frame is expertly crafted, showcasing clean lines and precise joinery techniques. The sofa often includes details like tapered legs, gently curved armrests, and a slightly reclined backrest for added comfort. The seating area of the Colonial Sofa is generously proportioned, providing ample space for relaxation. The cushions are typically upholstered in high-quality fabric or leather, offering both visual appeal and a comfortable seating experience. Wanscher paid great attention to the upholstery, ensuring that it complements the overall design and enhances the sofa's elegance.
The Colonial Sofa designed by Ole Wanscher for P. Jeppesen is highly regarded for its timeless appeal and exceptional craftsmanship. It represents the mid-century modern design ethos of combining functional comfort with a refined aesthetic. Today, vintage pieces of the Colonial Sofa are sought after by collectors and enthusiasts of mid-century furniture for their iconic design and historical significance.

Price: on application