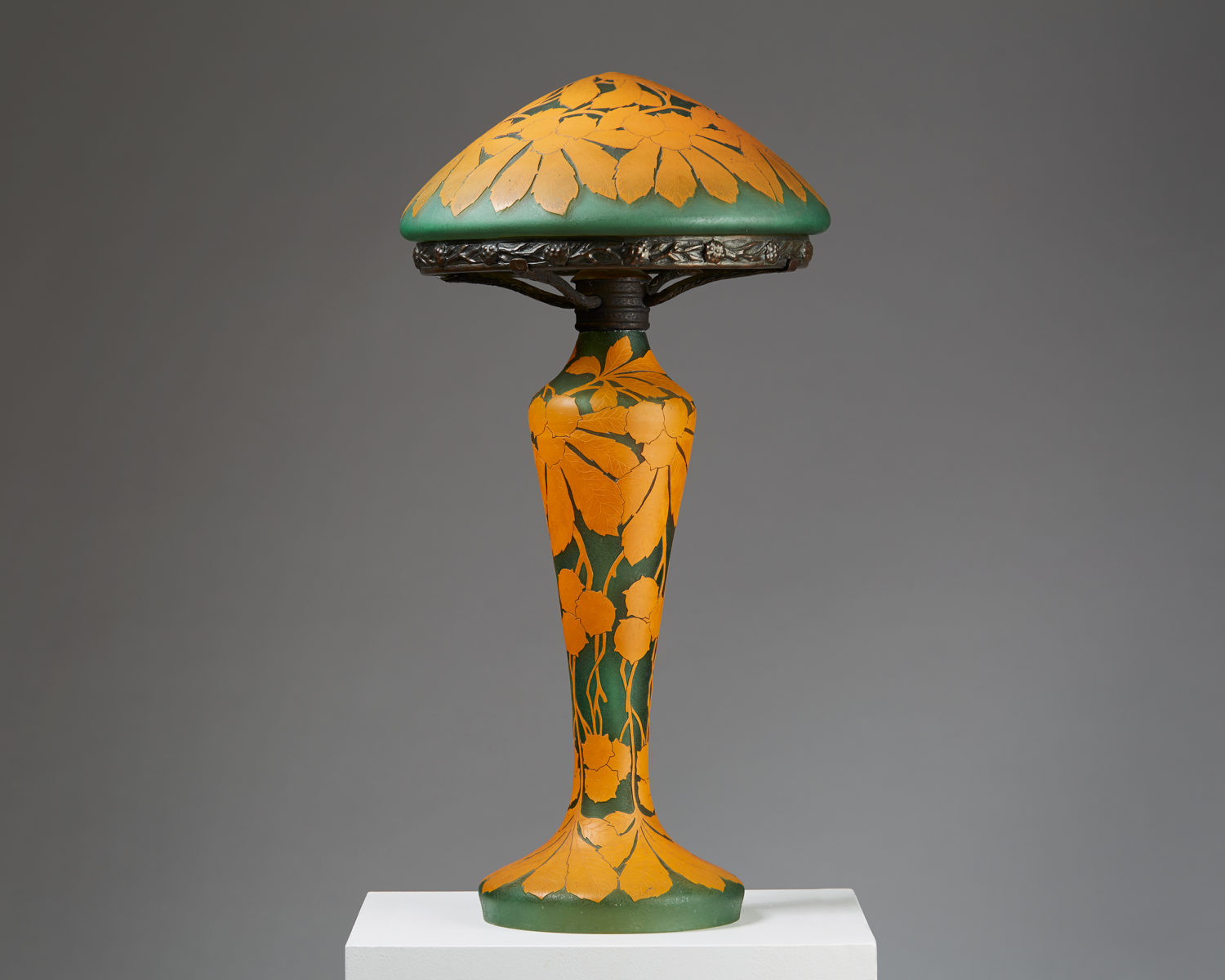 Table lamp designed by Axel Enoch Boman for Orrefors,
Sweden. 1915
Glass and bronze.
H: 71 cm/ 2' 4 1/2''
D: 37 / 14 2/4"
History:
From Agnes Hellners (born Ekman), notes 1927-29. "Christmas in 1915, Pappa (Johan Ekman) sent a high lamp, green with yellow chestnut leaves in the cameo technique. It was not like anything we had seen before, and we thought it was so beautiful and so clever that we were completely in awe with admiration, joy, pride and even amazement that our dear Orrefors could create such a masterpiece... (disp Albert Ahlin informs :) The drawings were made by a worker at Reijmyre, AE Boman. He made a few drawings in 1915 for us that have been lying around, and this lamp was one of his designs. The work in the furnace- the most difficult - was performed by Knut Bergqvist. The etching work was carried out by the Austrian Wollman." Consul Johan Ekman from Gothenburg bought Orrefors in 1913. He gave dispatcher Albert Ahlin the task of developing glassware. Ahlin employed skilled craftsmen, including master glass blower Knut Bergqvist and glass painter/artist Heinrich Wollman. Wollman was educated in Haida. He designed objects with traditional flower decorations in etched cameo technique. Axel Enoch Boman sent a number of drawings to Orrefors in 1915. He had been working as an engraver and etcher for Reijmyre glassware (before that at Kosta glass mill) since 1908. These two table lamps are the only known objects designed by AE Boman's for Orrefors.
Exhibitions:
Probably exhibited at the Göteborg Exposition of 1923, according to family tradition.
Orrefors Museum, summer of 1990.
Literature:
Katarina Hallin-Edenheim, Anders Reihnér, Simon Gate - Edward Hald. Glas 1916-1973, from Agnes Hellners Orrefors collection, Östergötlands museum
Orrefors, Ett svenskt glasbruk, Stockholm 1984, p. 18-19,
Alastair Duncan, Orrefors Glass, Woodbridge 1995, p. 16-17,
Kerstin Wickman, Orrefors, Ett hundra år av svensk glaskonst, Stockholm 1998, p. 20,
Kerstin Wickman, Orrefors, Glasbrukets historia 1898-1998, Stockholm 1998, p. 26
Nina Weibull, Kärlek till glas - Agnes Hellners collection of Orrefors glass, Stockholm 1998, p. 40 - 42

Price: on application