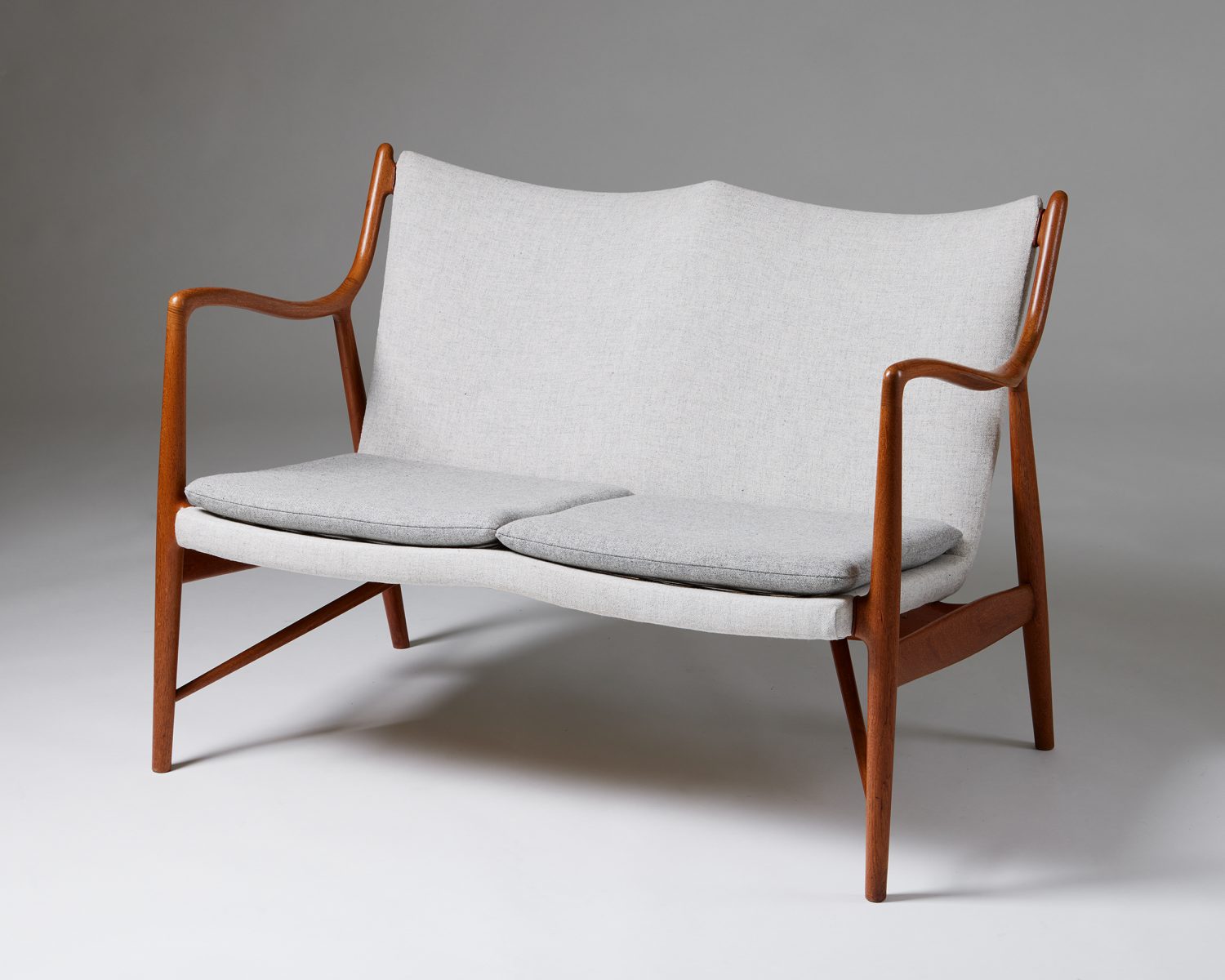 Two-seater sofa model FJ 45 designed by Finn Juhl for Niels Vodder,
Denmark, 1945.
Teak, leather, and worsted wool upholstery.
Stamped.
Provenance: From a private European collection.
Finn Juhl's two-seater sofa model FJ 45 broke boundaries in the development of twentieth-century furniture design. The space between the frame and the seat creates an impressive sense of lightness. This is increased by the delicately formed armrests. Finn Juhl formed a division between the supported and the supporting elements of the sofa, making it a truly remarkable Nordic design collectable.
Finn Juhl also paid close attention to ergonomics in his design of the sofa. He was meticulous about understanding the human body to identify how the separate parts of the sofa should support the sitter. The weight of the sitter is supported by a crossbar below the seat which is reinforced by slim diagonal braces. In 1945, the architect Erik Herlöw stated that "Finn Juhl does not design on a refinement of traditions but has instead logically solved functions and therefrom shaped furniture on his own terms".
Finn Juhl's two-seater sofa model FJ 45 was first presented at the Cabinetmakers' Guild Exhibition of 1945 in Denmark. This was the main platform for design in Scandinavia during this period, so the designers and cabinetmakers presented only their very best work. His designs for the sofa have also appeared in many international collections, most notably the MoMA in New York.
Literature:
Niels Vodder: Möbler, Furniture, Möbel, Copenhagen, 1959, p. 9
Patricia Yamada, ed. Finn Juhl Memorial Exhibition, exh. cat., Osaka, 1991, p. 130
H: 80 cm / 2' 7 1/2''
W: 118 cm / 3' 10 1/2''
D: 72 cm / 2' 4 1/3''

* SOLD *