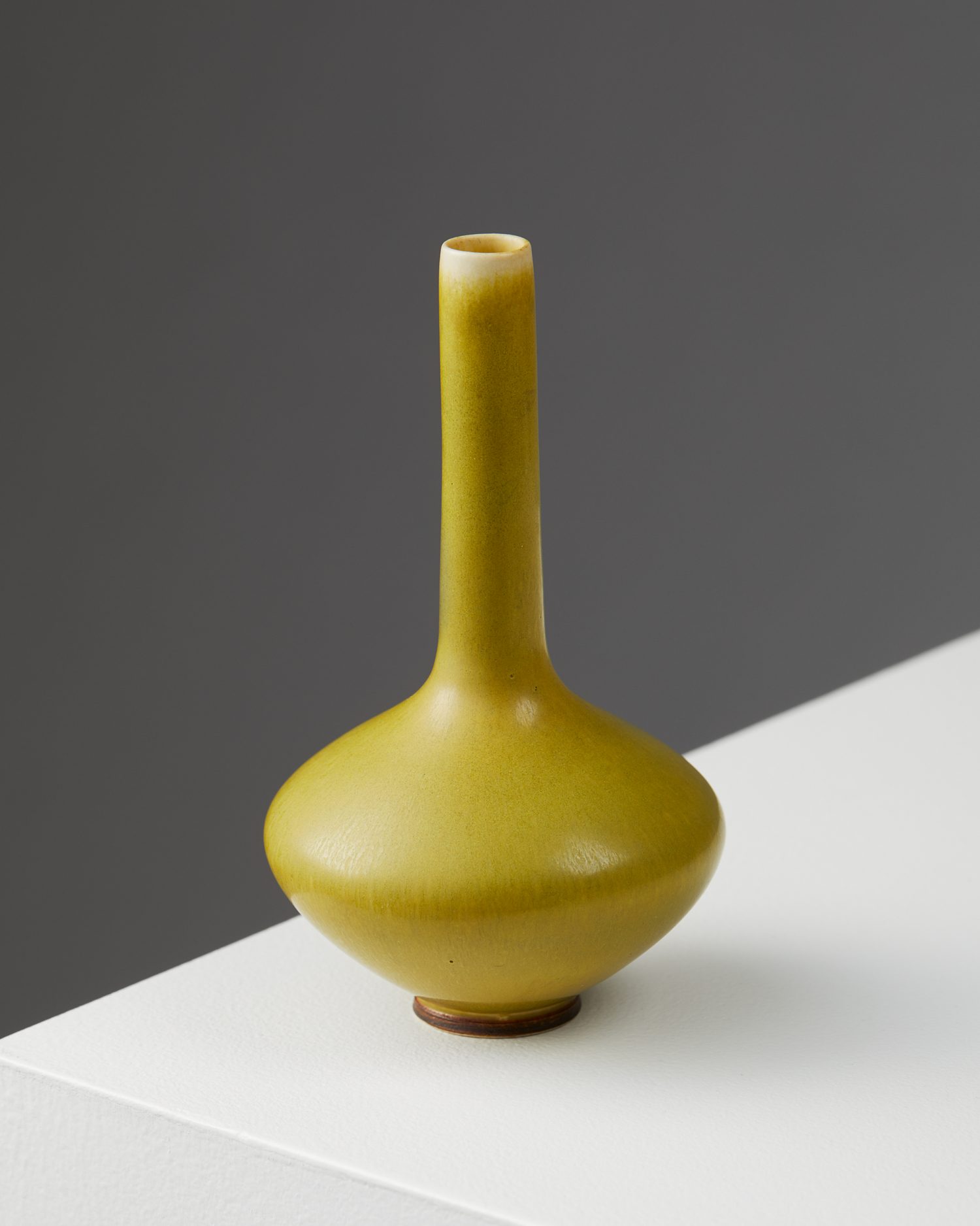 Vase designed by Berndt Friberg for Gustavsberg,
Sweden, 1950's.
Stoneware.
Unique.
Signed.
Berndt Friberg is among the most skilled Swedish ceramicists of the 20th century. He produced tremendously sought-after pottery and created exceptional glazes and forms. Unlike many of his contemporaries, he threw and glazed all of his pieces himself.
Berndt Friberg mastered the technique of rabbit's fur glaze, which is achieved by mouth spraying layers of differently coloured glaze onto the body of the vessel. His ceramics with this type of glaze — in a large variety of different colours — are particularly collectable. Friberg was very successful during his lifetime. The late King of Sweden, a dedicated ceramics collector, was allowed to view Friberg's exhibitions before the openings to select Fridberg's pieces.
Friberg's early glazed works were matte but became increasingly shiny from the late 50s onward, often showing striking geometric patterns. His work consists of objects in every size, ranging from miniatures — the smallest of which is no larger than a couple of centimetres — to large floor vases. Friberg always placed each of his vessels on a small foot ring, and since he was a perfectionist, he made sure that there were never any dried glaze droplets on these characteristically brown foot rings.
Friberg spent almost fifty years at Gustavsberg, the most renowned Swedish porcelain company that originated in 1826. He started as a thrower for Wilhelm Kåge in 1934, and from 1937 onwards, he also created pottery for Stig Lindberg. Alongside his work for other artists, Friberg developed his own style of producing elegant vessels based on Asian traditional pottery.
H: 13.5 cm / 5 1/3''
Diameter: 8 cm / 3 1/4 ''

* SOLD *