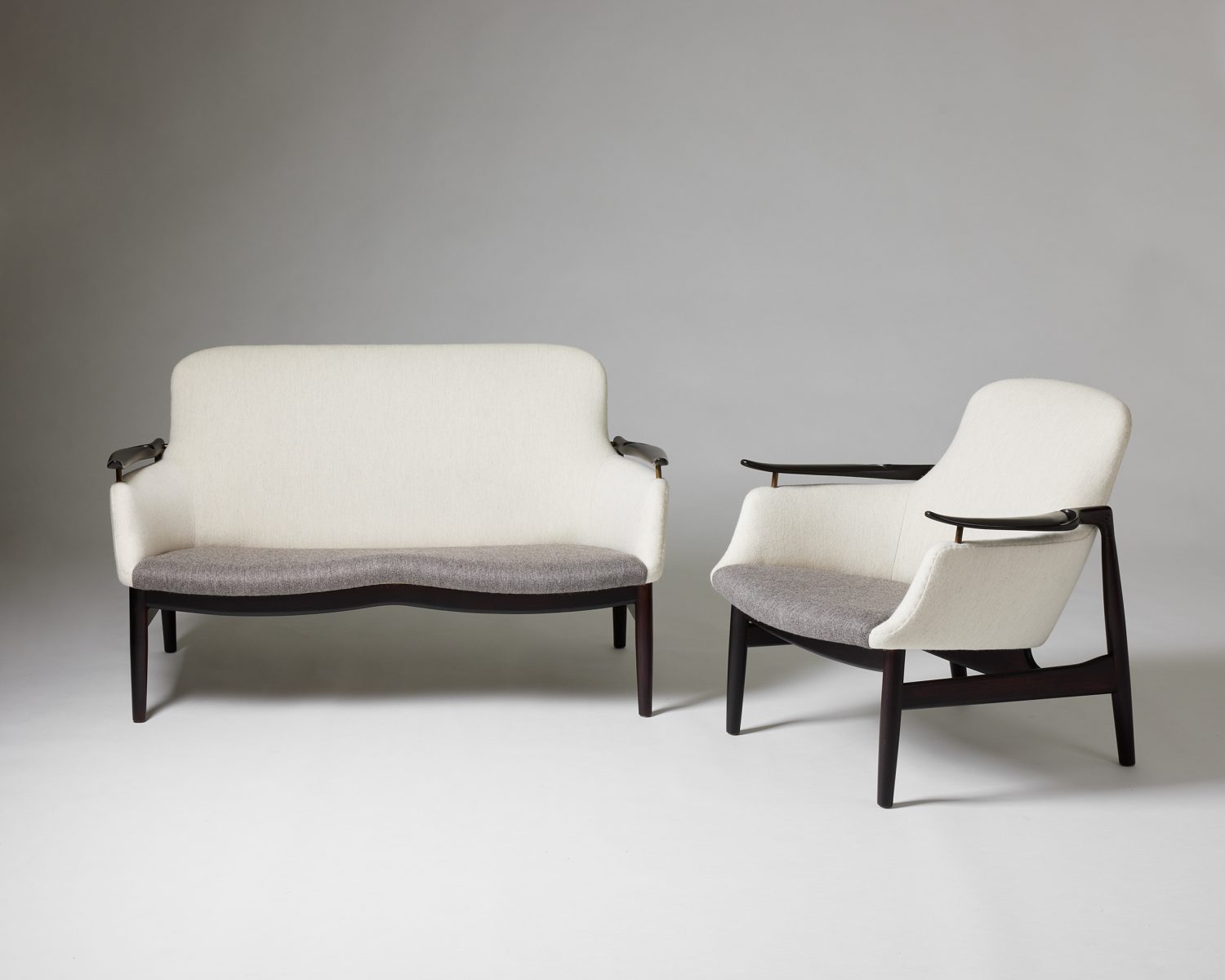 Armchair and sofa model NV53 designed by Finn Juhl for Niels Vodder,
Denmark, 1953.
Brazilian rosewood and Savak wool upholstery.
Stamped.
Finn Juhl's NV53 armchair and two-seater sofa were first presented at the Copenhagen Cabinetmakers' Guild Exhibition in 1953. The models are distinguished by exquisite craftsmanship and refined materials. They are among Juhl's most sought-after pieces and embody mid-century modern Danish design.
The sculptural armrests are elegantly separated from the seat, creating the impression that they hover above. These NV53 pieces have Brazilian rosewood frames — the rarest to find — with contrasting white and grey Savak wool upholstery.
Finn Juhl (1912 - 1989) was an architect and the most sculptural of the Danish masters. His innovative approach to form is evident in the clean lines and organic curves, blending artistry and functionality seamlessly. Juhl worked with different, often larger, manufacturers, but his finest collaborations were with his friend Niels Vodder, one of the most skilled cabinet makers in Denmark at the time.
Dimensions of the chair:
H: 75 cm / 2' 5 1/2''
W: 73 cm / 2' 4 3/4''
D: 79 cm / 2' 7''
AH: 58 cm / 22 3/4''
SH: 35 cm / 13 3/4''
Dimensions of the sofa:
H: 75.5 cm / 2' 5 3/4''
W: 127 cm / 4' 2''
D: 79 cm / 2' 7''
AH: 55 cm / 21 3/4''
SH: 37 cm / 14 1/2''

Price: on application