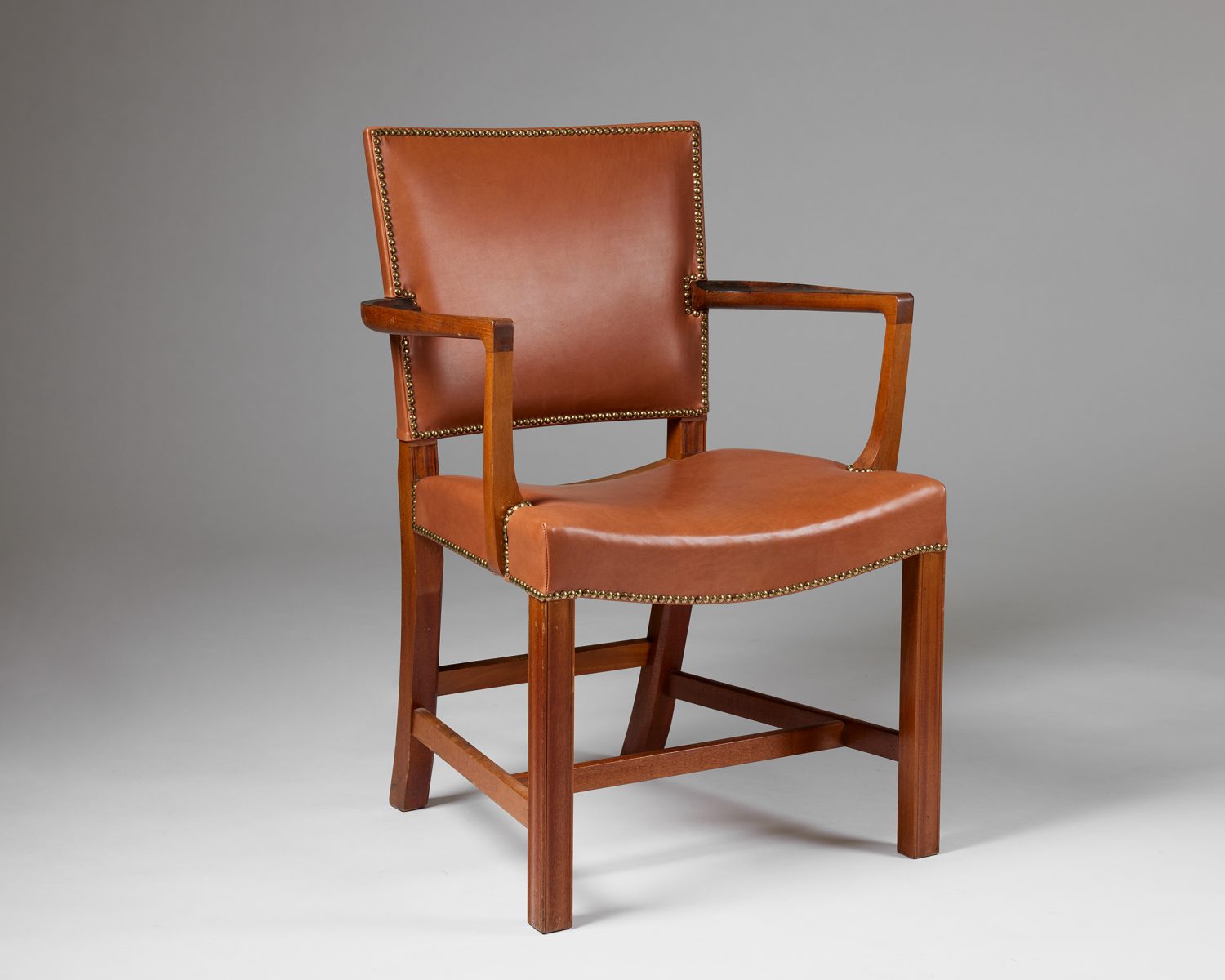 Armchair 'The Red Chair' Model 3758A designed by Kaare Klint for Rud. Rasmussen,
Denmark, 1930s.
Mahogany, leather upholstery and brass.
This example was produced after 1930.
The design detailing of this magnificent chair by Kaare Klint, the father of Scandinavian modernism, make it an undeniably significant 20th-century collectable. The model is also referred to as the "Barcelona Chair" because it was first shown at the 1929 Barcelona Universal Exposition. With vertical arm supports for the curved horizontal armrests, exquisite patinated leather, profiling on the front legs, and a kick on the back legs, the design achieves a luxurious and nonetheless light form. It was typical of Klint to break up the components, leaving air between the backrest and the seat and creating the impression that the upper part of the chair floats above the lower.
The model was shown in various woods and upholstery finishes throughout the years and made in different sizes according to body shape; these two are medium-sized. Next to Niger leather, the dark red leather used here is rare and extremely beautiful. Klint worked with his preferred cabinet maker Rud. Rasmussen in Copenhagen, the leading wooden furniture manufacturer of the time to create two different versions of this chair: with and without nails to secure the leather.
Stamped.
H: 90 cm / 2' 11 1/2''
W: 61.5 cm / 24 1/4''
D: 50 cm / 19 2/3''
H armrests: 70 cm / 2' 3 1/2''
W seat: 57 cm / 22 1/2''
D seat: 42 cm / 16 1/2''

Price: 39 500 SEK

Approximate price in your local currency
3 417 EUR
3 665 USD
2 936 GBP
511 767 JPY