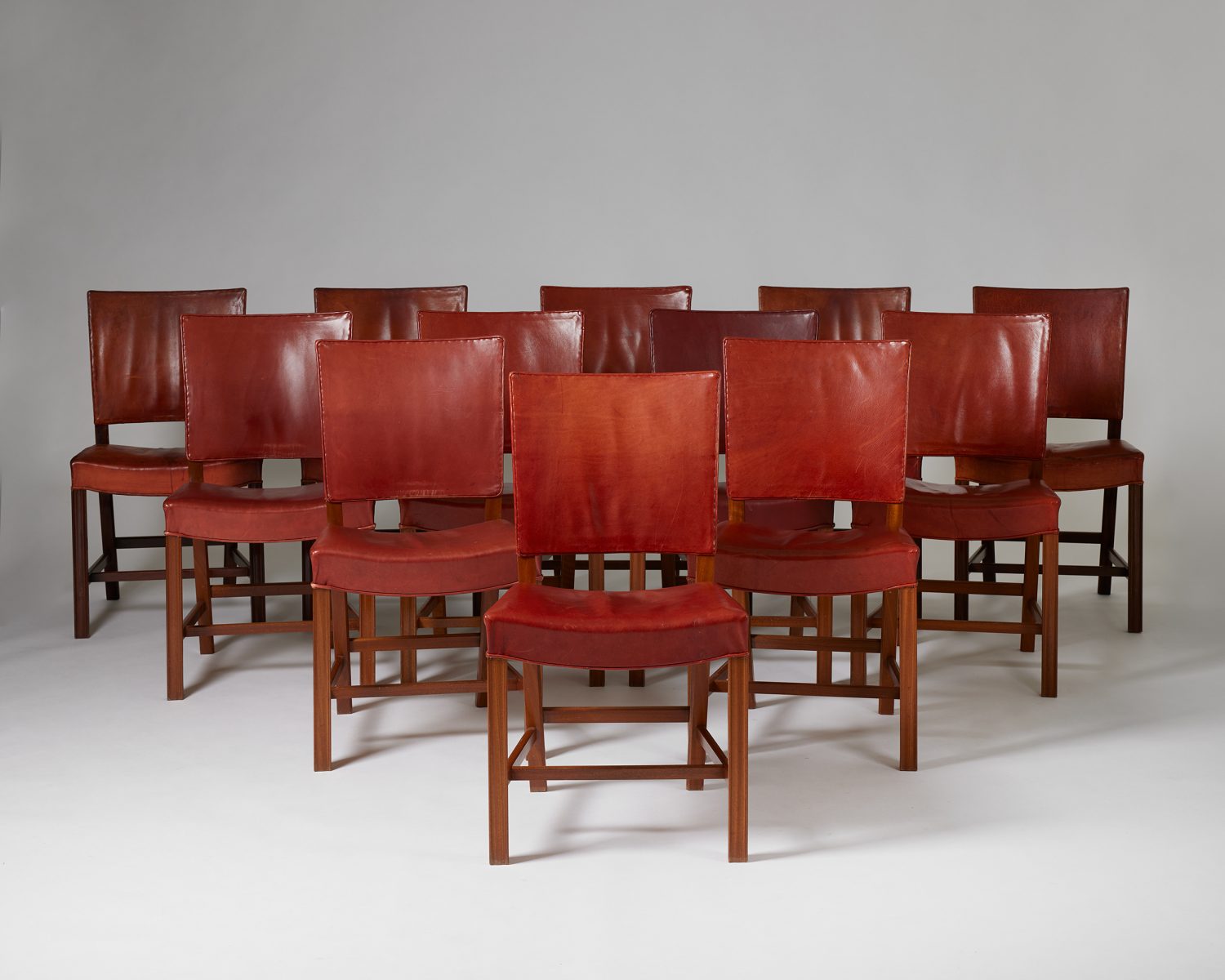 Set of twelve dining chairs 'The Red Chair' model 3949 designed by Kaare Klint for Rud Rasmussen Cabinetmakers,
Denmark, 1928.
Mahogany and leather.
These examples were made in the 1960s by Rud Rasmussen Cabinetmakers.
Stamped.
The 'Red Chair', model 3949, is an iconic Scandinavian dining chair. Kaare Klint designed model 3949 in 1928 as a smaller version of the first 'Red chair' from 1927, which was originally designed for the Danish Museum of Decorative Art. The chair was named after the red Niger leather that the chairs were covered with. The 'Red Chair' was presented in the Danish Pavilion at the 1929 Barcelona International Exposition, which is why the model is also referred to as the 'Barcelona Chair'.
The chair's minimalist silhouette shows a refined simplicity characterised by clean lines. Rich and elegant materials, mahogany and leather, are combined to create this functional seat. The Red Chair thus embodies the principles of Danish modernism.
A wide leather backrest and comfortable seat ensure optimal support for sitting. The chair's sturdy wooden frame is expertly crafted. The maker, Rud Rasmussen in Copenhagen, was the leading wooden furniture manufacturer of the time. The Red Chair, model 3949, stands as a testament to Kaare Klint's enduring legacy as a pioneer of Danish design, and it continues to be a coveted piece among collectors and design enthusiasts alike.
Kaare Klint (1888-1954) was a Danish architect and designer who played a pivotal role in shaping modern Danish furniture design. Clean lines, the use of the best materials of the time, and superb craftsmanship define Klint's style.
H: 85 cm / 2' 9 1/2''
W: 48 cm / 19''
D: 51 cm / 20''
SH: 47 cm / 18 1/2''

Price: on application