Paavo Tynell's 'Snowflake' – celebrating a legacy of lighting.
To experience anything visually, we are completely led by light. It is a life giver and creator of atmosphere. Rarely is light ever controlled as beautifully or poetically as it was by the world-famous Finnish lighting designer Paavo Tynell.
One of the best loved and most acclaimed Finnish designers – Paavo Tynell was born in Helsinki, Finland, in 1890. He was an industrial designer, often referred to as 'the man who illuminated Finland' through his world-renowned and extremely sought-after work, formed mostly from perforated and polished brass. He was a true pioneer of Nordic lighting design, with his early work proving to be of a functionalist nature during the first stages of his awe-inspiring career.
Tynell became the lighting designer of choice for a number of distinguished architects including Aarne Ervi and the remarkable Alvar Aalto, and went on to be the managing director of his own company, Taito Oy, into the late 1930's. The growing accessibility of electricity during this time meant that more and more private households were looking to install light fixtures; thus, hugely boosting sales for Taito Oy and spreading the word of Tynell's classical yet charming aesthetic.
A change was noticeable in Tynell's design style entering the late 1940's, withdrawing from functionalism and warming more to romantic and delicate shapes; perhaps a consequence of the constraints and struggles of war. His designs were influenced by the organic forms of nature and the steadily growing feeling of freedom, which was mirrored by Tynell with the first production of the truly magnificent Snowflake chandelier in 1946.
The front room at No.14 Cavendish Square, the Palladian mansion that is the London House of Modernity, is beautifully illuminated by our very own Paavo Tynell Snowflake chandelier. Now a coveted collector's item, Tynell's series of Snowflake chandeliers in numerous different variations attracted attention across the globe. Included alongside this article are some photographs of early Snowflake chandelier models taken from the archival book 'Chasing Light', by Ville Linna. The model we have at Modernity was one of Tynell's rarer commissions, for a private household in Belmont, Massachusetts, USA. This model remained in the possession of the household by whom it was commissioned until it was recently taken to Scandinavia and is now being exhibited at The London House of Modernity in our new collaborative exhibition featuring Stephen Friedman Gallery.
Each of the varying models of the extraordinary Snowflake chandelier had a couple of elements in common; an intricately perforated brass bowl cradling the bulbs, out of which elegantly shoots several brass rods which grow taller and taller only to curve outwards, almost as a flower or firework would, suspended from which are a cascade of hand-crafted mesh snowflakes. Arguably, however, the most breathtaking marvel arrives when the lights are switched on. A delicate scattering of snowflake shadows decorates and dances across the ceiling of the room it centers.
Complimenting the Snowflake chandelier, Modernity has a beautiful collection of other lighting designed by Paavo Tynell. The ceiling lamp comprised of three brass pendants and commissioned for the Evangelical-Lutheran Church in Helsinki, is particularly wonderful. There is beauty in its simplicity and relaxed suspension. Of a similar shape, but smaller size, are the pair of ceiling lamps which showcase both Tynell's inventive pulley system and signature dot-like perforations.
To see the Snowflake chandelier at The London House of Modernity featuring Stephen Friedman Gallery exhibition,
click here
or to go to the listing for this piece,
click here
.
To see more of our Paavo Tynell collection at Modernity,
click here
.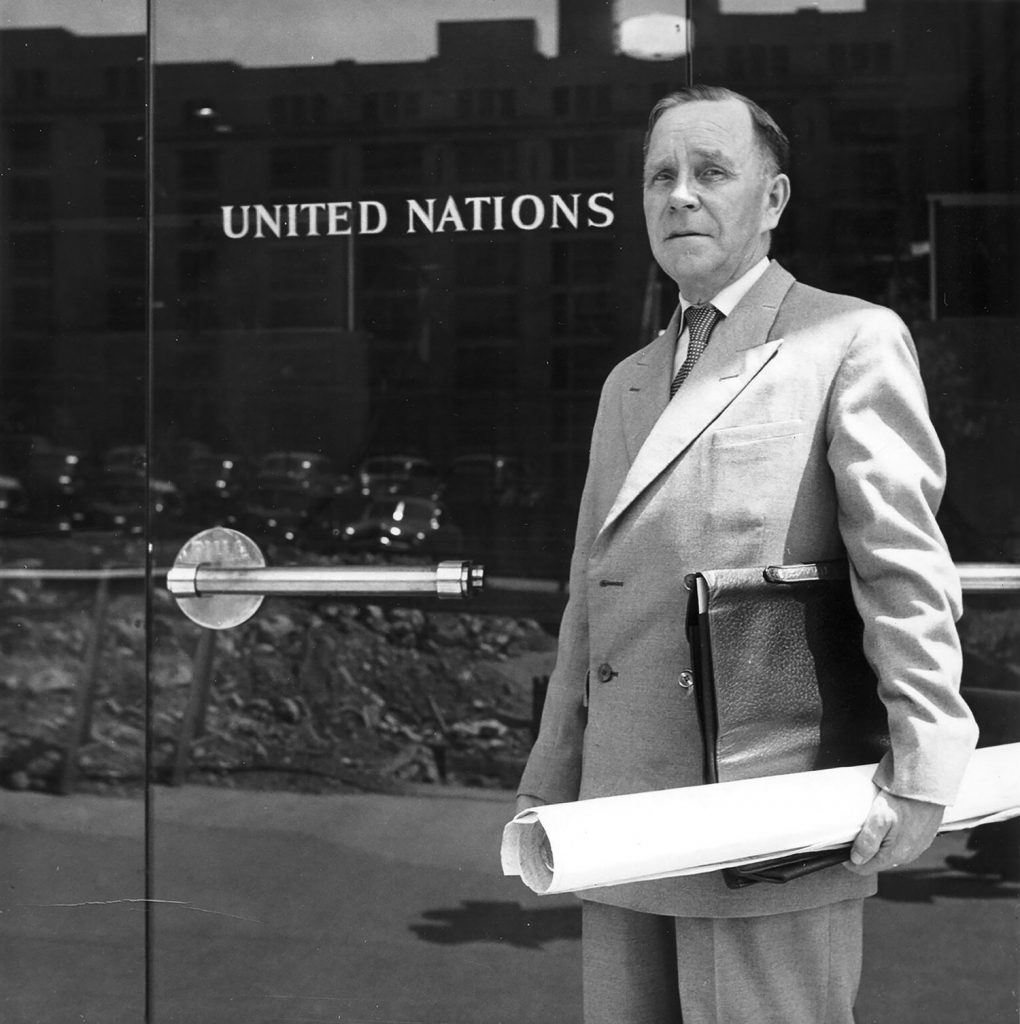 Paavo Tynell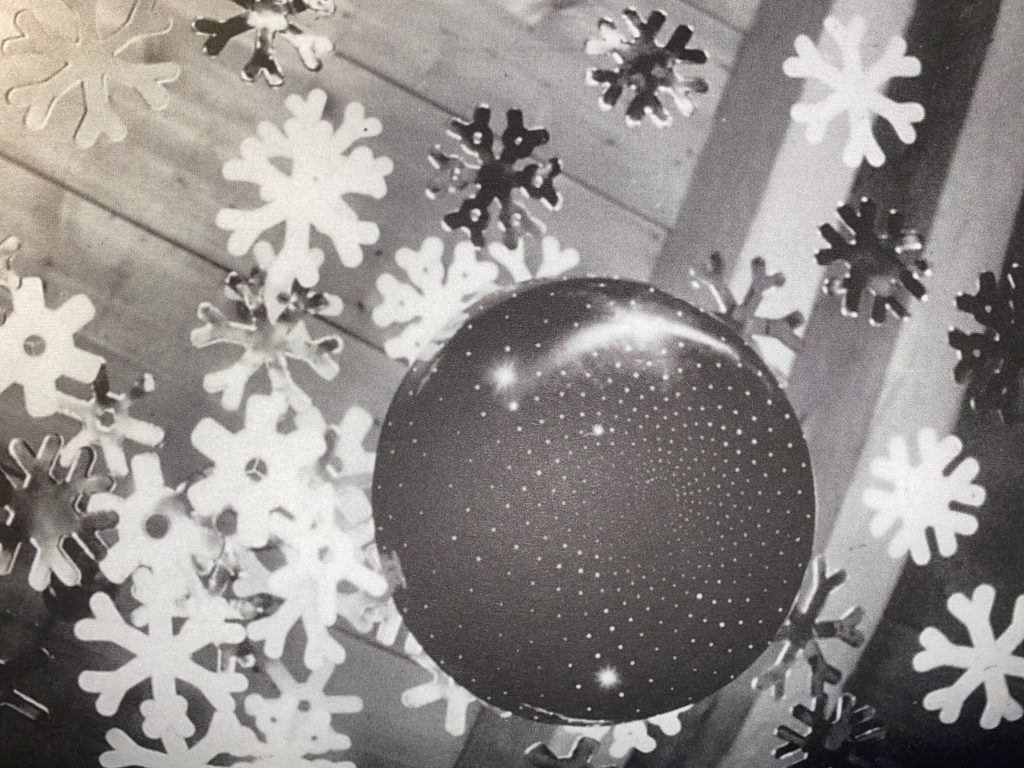 Archival photograph showcasing the signature dot-like perforations
Modernity's Snowflake chandelier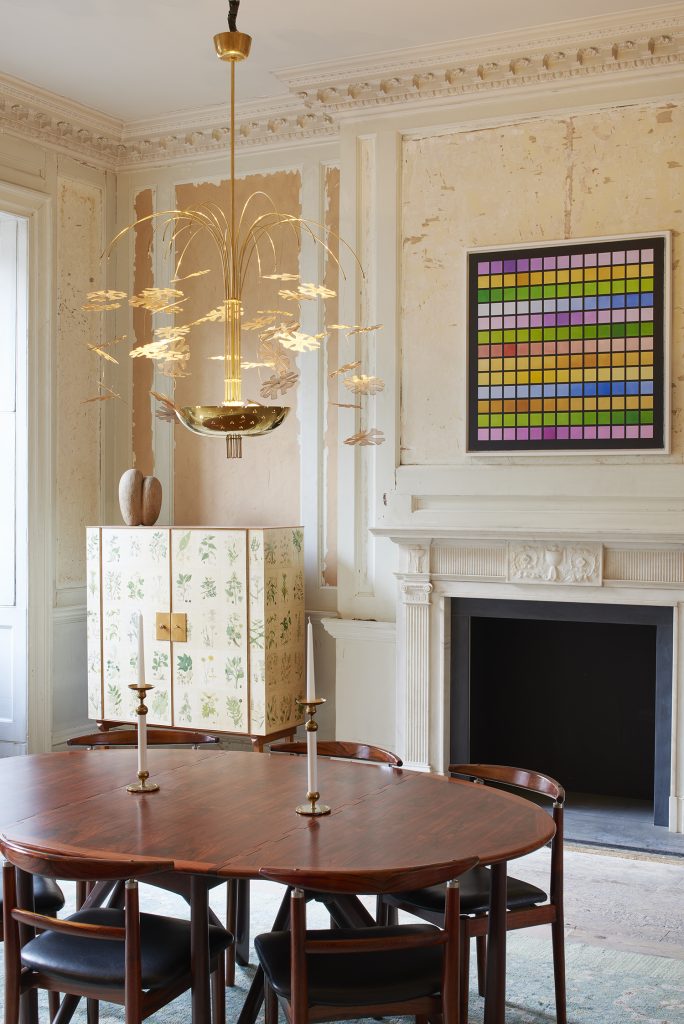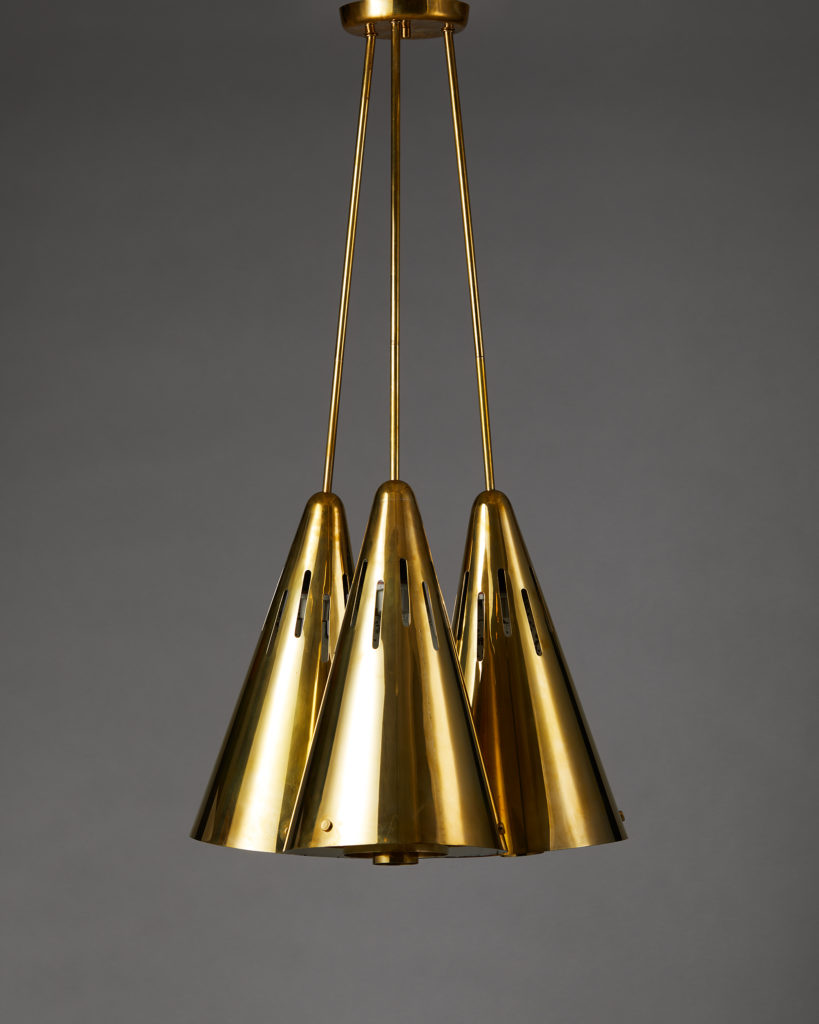 Pendant designed by Tynell for the Evangelical-Lutheran Church, Helsinki
Modernity's Snowflake chandelier in the household it was commissioned for, Massachusetts, USA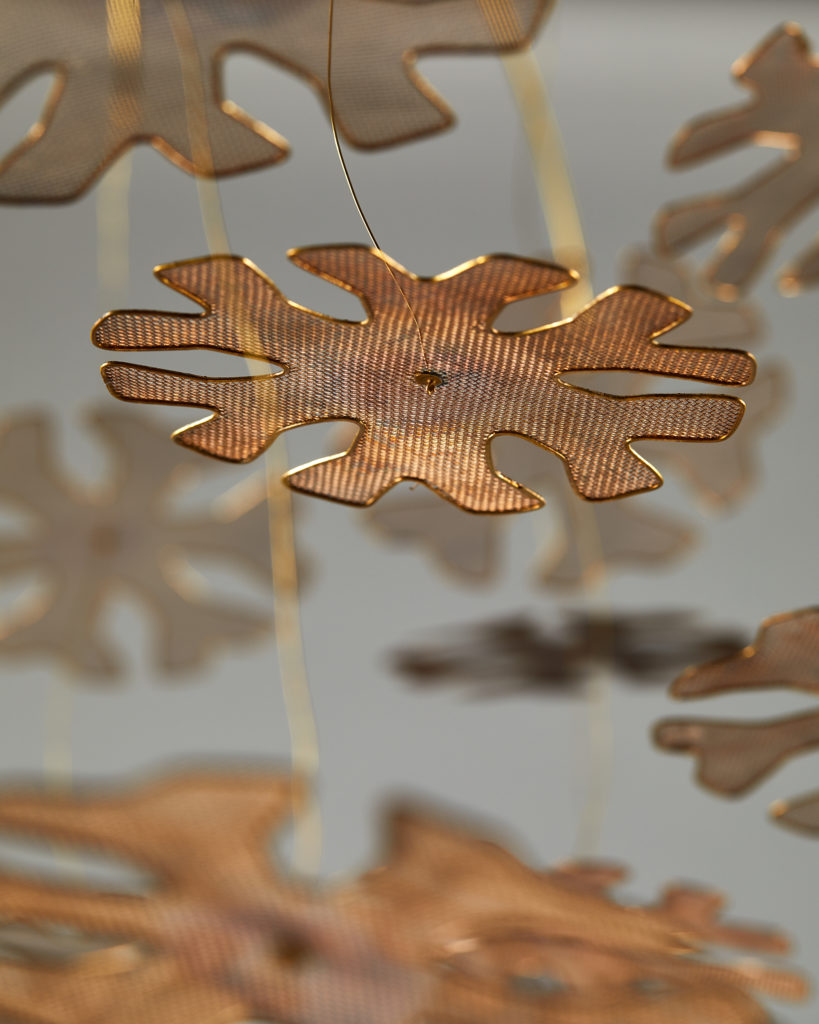 Intricately hand-crafted brass mesh snowflakes
Pair of ceiling lamps with Tynell's 'pulley' system