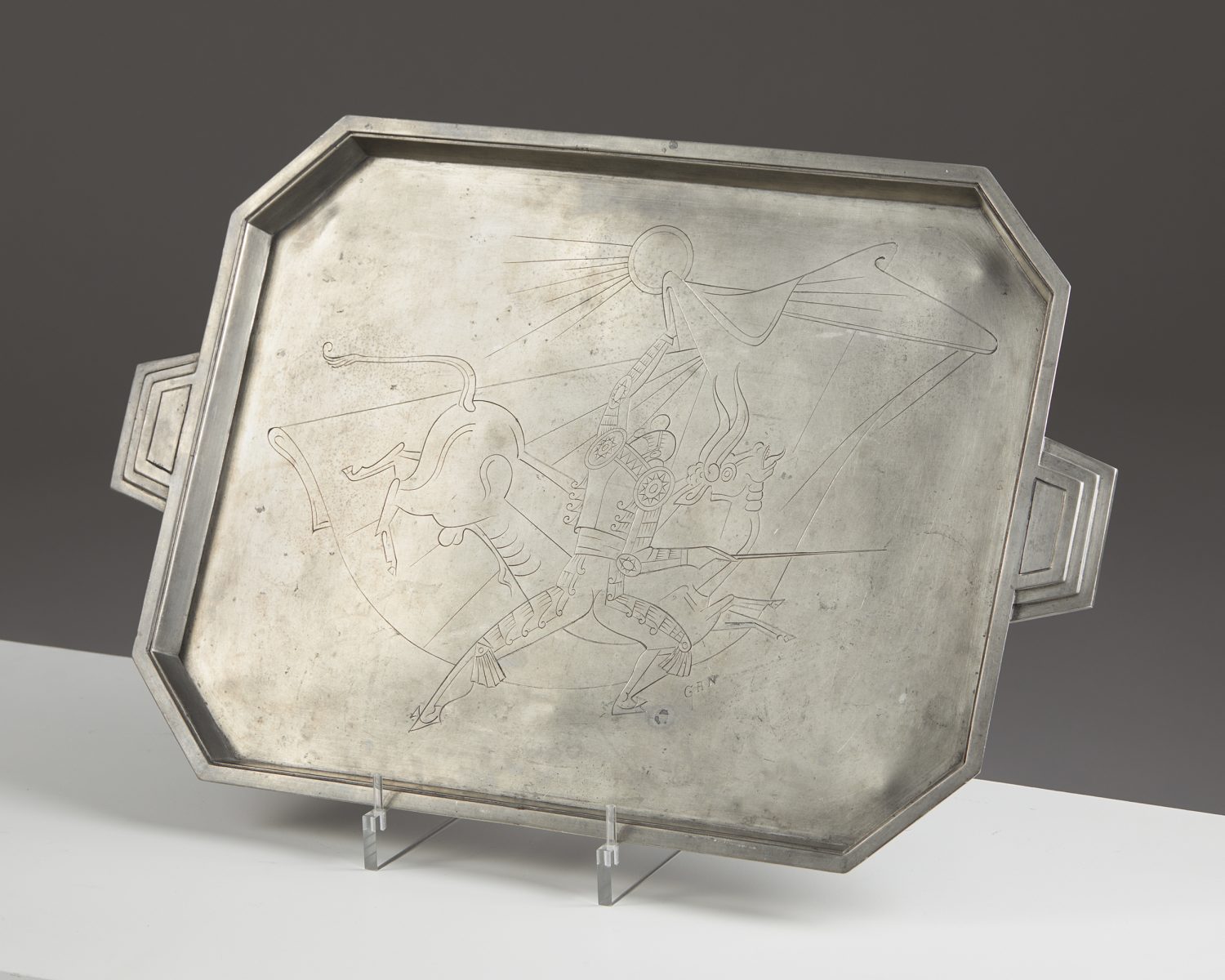 Tray designed by Gösta Adrian-Nilsson for Astrid M. Aagesen,
Sweden, 1930.
Pewter.
Stamped.
Provenance: From a private Swedish collection.
This rare pewter tray from 1930 was designed in Sweden by Gösta Adrian-Nilsson for Astrid M. Aagesen, who produced it. The hand-etched motif depicts a bullfighter and bull. This model was shown at the Stockholm Exhibition in 1930 and the Swedish Art Industry Exhibition in London in 1931.
Gösta Adrian-Nilsson (1884-1965), also known as GAN, was a Swedish artist and writer. He is regarded as a pioneer of the Swedish modernist art movement. GAN is represented at the Nationalmuseum and Moderna Museet in Stockholm, among others.
Astrid Marie-Frederike Aagesen (1883-1965) was a Danish-Swedish designer and metalworker who crafted objects in many kinds of metals. Several of her pieces were selected for the Jubilee Exhibition in Gothenburg in 1923 and again at the Paris Exhibition in 1925, where she won a grand prize. Throughout the 1930s, several international exhibitions followed after she had achieved international acclaim in the 1920s.
L: 58 cm / 22 3/4''
W: 37 cm / 14 1/2''
H: 2.5 cm / 1''
Literature:
Exhibition catalogue, Exhibition of Swedish Industrial Art London 1931, 1931, model depicted cat. no. 45.
Nils G. Wollin, Contemporary Swedish handicraft in picture, 1931, model depicted p. 75.

Price: on application