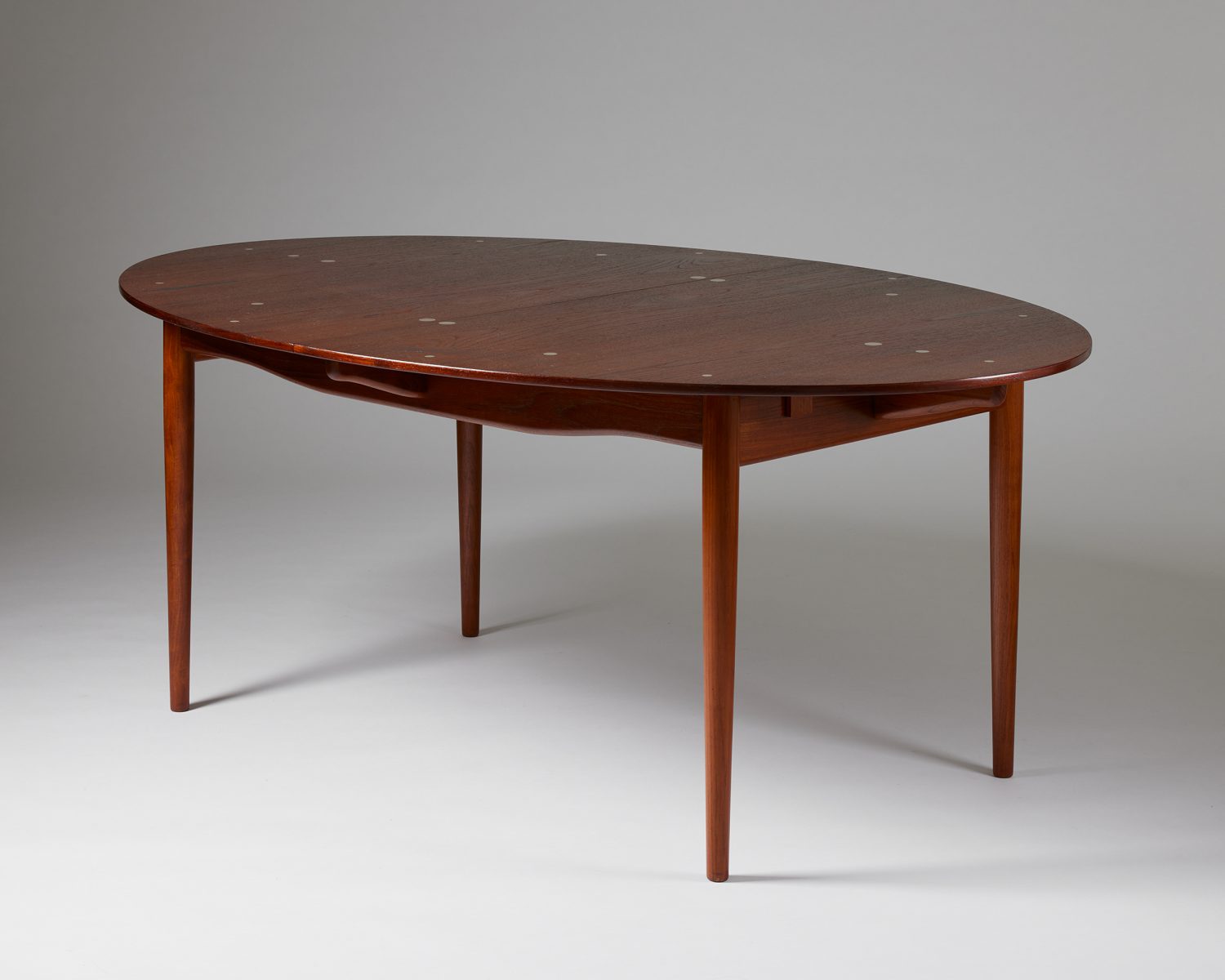 Dining table 'Judas' with extensions designed by Finn Juhl for Niels Vodder,
Denmark, 1948.
Teak and circular silver inlays.
Stamped.
Provenance: From a private Danish collection.
The 'Judas' table deserves to be seen as the embodiment of fundamental mid-century Danish design principles. It shows exceptional craftsmanship and attention to detail. The oval table top is supported by simplistic legs that taper slightly towards the floor. The ingenuity of this table, however, lies in the way in which it extends. A small groove runs along the underside of the table top's edge, allowing for an easy grip when extending the length of the table. While the filleted edge serves as a grip, it also makes the solid wood table top appear thinner and more delicate. The surface effortlessly separates for either one or two extension leaves to be added without having to move the legs.
The 'Judas' table takes its name from the silver inlays embedded in the top, which symbolise Judas' betrayal of Jesus for thirty pieces of silver. At first glance, these inlays seem to exist only to contribute an element of decoration to the table. Their placement actually has the more sophisticated function of indicating how many people the table seats.
Finn Juhl was an architect and the most sculptural of the Danish masters. He frequently based his remarkable designs on ancient pieces. Juhl worked with different, often larger, manufacturers but his finest collaborations were with his friend Niels Vodder, one of the most skilled cabinet makers in Denmark at the time.
H: 72.5 cm / 2' 4 1/2''
L: 181 cm / 5' 11 1/4''
Length when fully extended: 291 cm / 9' 6 1/2''
Two leaves, each 55 cm / 21 3/4'' in length.
W: 120 cm / 3' 11 1/4''

* SOLD *