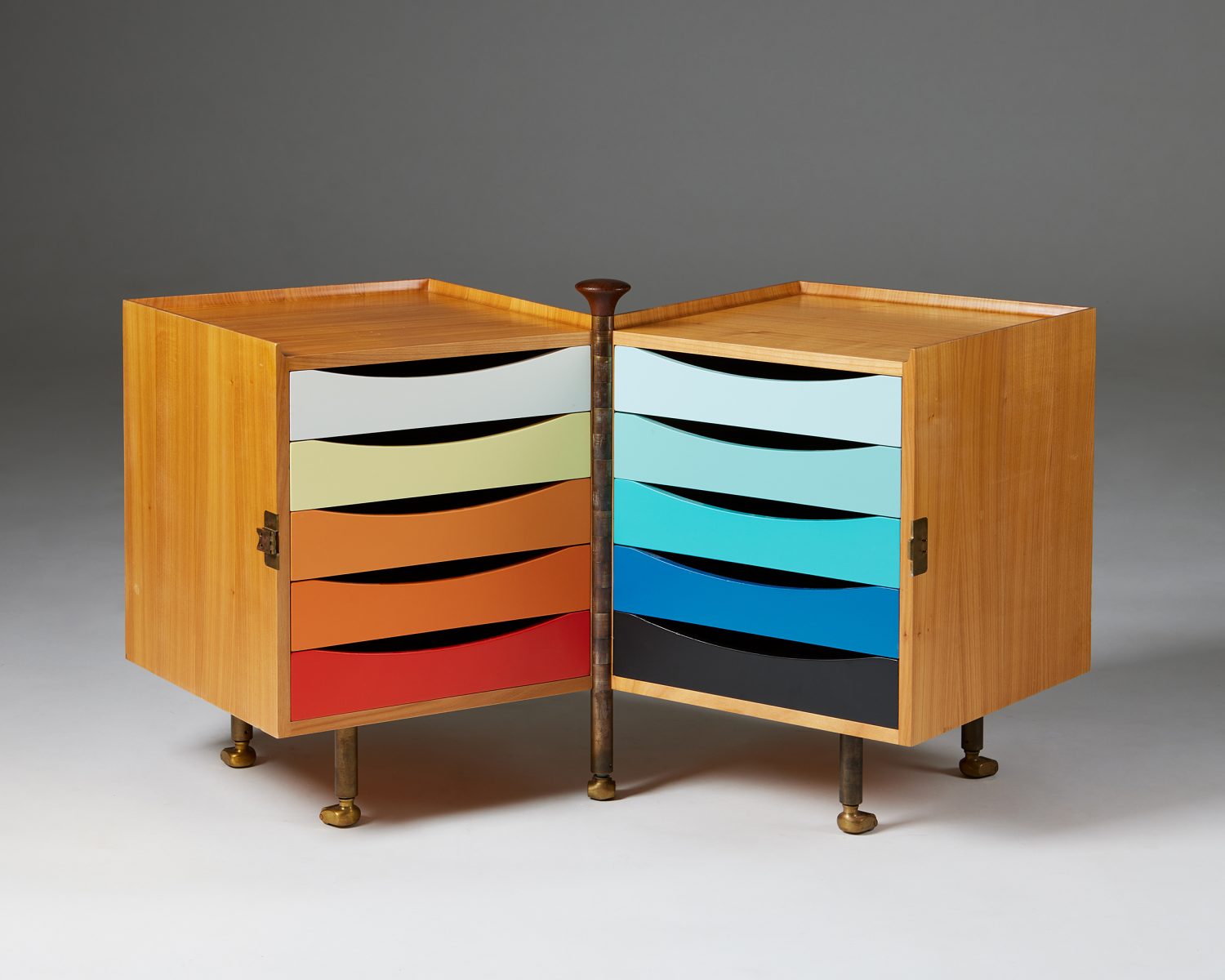 "Glove Cabinet" designed by Finn Juhl for Ludwig Pontopiddan,
Denmark. 1961.
Japanese cherry, wenge, steel, and brass.
The Glove Cabinet by Finn Juhl is one of his most recognisable pieces. He designed the cabinet for the bedroom he shared with his new wife. She was an avid collector of gloves and the compact cabinet was meant to house her collection. It belonged to the exquisite set of bedroom furniture Juhl presented at the Cabinetmakers' Guild Exhibition in Copenhagen in 1961. All the pieces were made by the master cabinetmaker Ludwig Pontopiddan.
This extremely rare cabinet was produced in very limited quantities. It is made from solid Japanese cherry wood, gunmetal, brass, and brightly coloured lacquered drawer surfaces. It has a beautifully carved handle top in solid wenge. The left side of the cabinet's interior shows a warm range of colours while the right side is somewhat colder, possibly intended for separating summer and winter gloves. The body of the cabinet rests on five legs with small brass wheels.

At the time, Finn Juhl's use of bright colours and his combination of different materials bewildered many of the other designers and cabinetmakers at the Cabinetmakers' Guild Exhibition.


The architect Finn Juhl was the most sculptural of the Danish masters and his pieces are among the most desirable mid-century collectables.
Provenance: Purchased at the famous department store Illums Bolighus in Copenhagen in the 1960s. The cabinet has been in a private Swedish collection for the past thirty years.
H: 51 cm / 1' 8"
W: 69.5 cm / 2' 3 1/2"
D: 35 cm / 1' 1 1/2"

* SOLD *