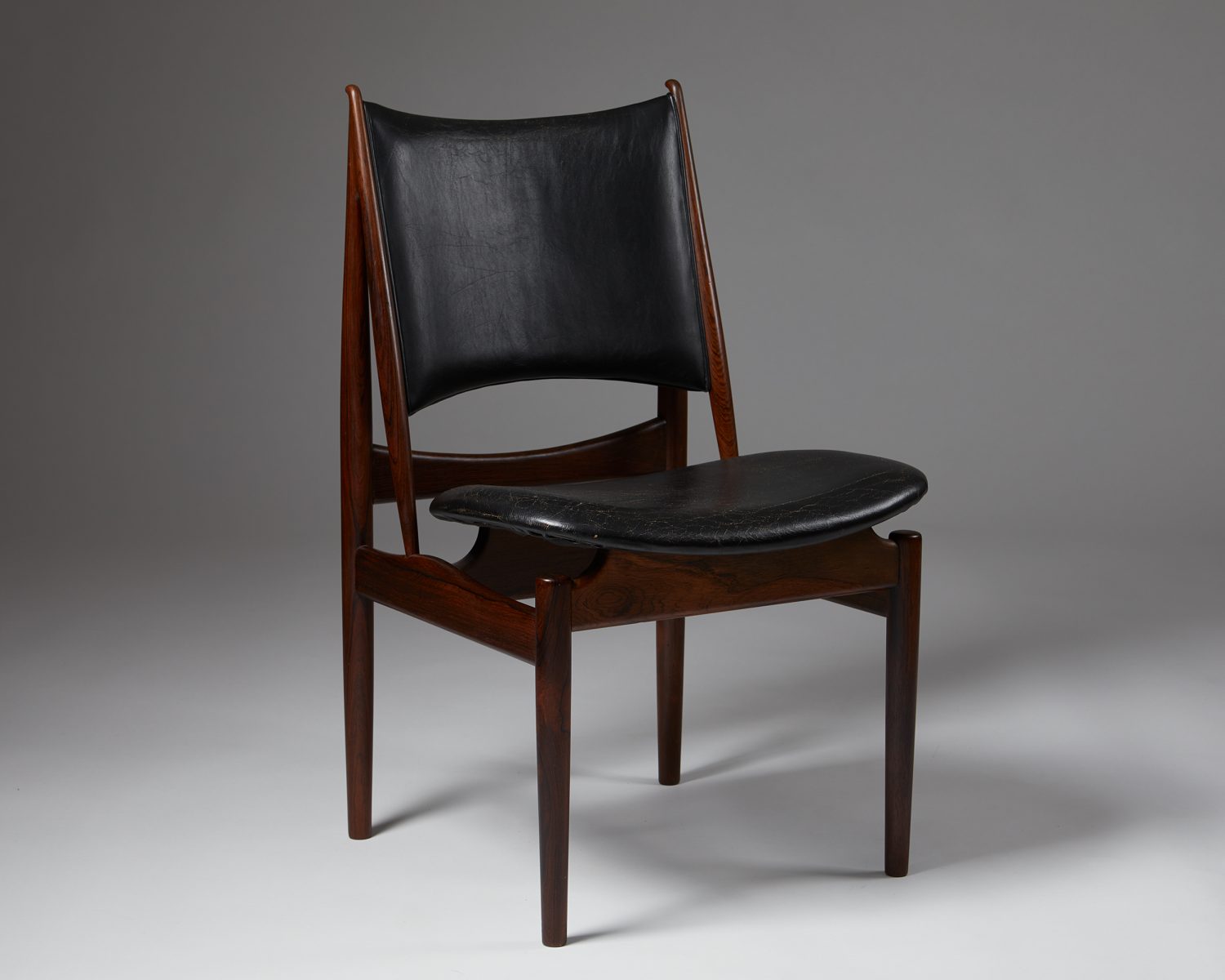 Chair "Egyptian" designed by Finn Juhl for Niels Vodder,
Denmark, 1949.
Made and stamped by the maker.
Brazilian rosewood and leather.
First presented in 1949 at the Cabinetmakers' Guild Exhibition in Copenhagen.
This exquisitely carved sculptural dining chair is among the most iconic pieces of 20th-century design.
With a slanted backrest that connects to the elongated back legs, the shape of this chair is breathtaking. Small carved horns adorn the two top ends of the backs, and the composition has elegantly curved front and side stretchers. Rosewood is the rarest and by far the most beautiful wood used for this model, especially in combination with black leather upholstery. It was typical for Finn Juhl to separate the furniture planes, achieving a sense of airiness without reducing the seating comfort. Next to his "Chieftain Chair", the "Egyptian Chair" is considered Juhl's masterpiece. Both designs were first presented in 1949 at the Cabinetmakers' Guild Exhibition in Copenhagen.
The architect Finn Juhl was the most sculptural of the Danish masters, and he frequently based his remarkable designs on ancient pieces. As the name "Egyptian" states, he drew inspiration from an antique Egyptian seat. Juhl worked with different, often larger, manufacturers but his finest collaborations were with his friend Nils Vodder, one of the most skilled cabinet makers in Denmark at the time.
Literature: Grete Jalk [ed.]: "40 Years of Danish Furniture Design", vol. 3, p. 125.
H: 89.2 cm / 2' 11 1/4''
SH: 47.5 cm / 1' 6 1/2''
W: 54 cm / 1' 9 1/2''
D: 54.2 cm / 1' 9 3/4''

Price: on application